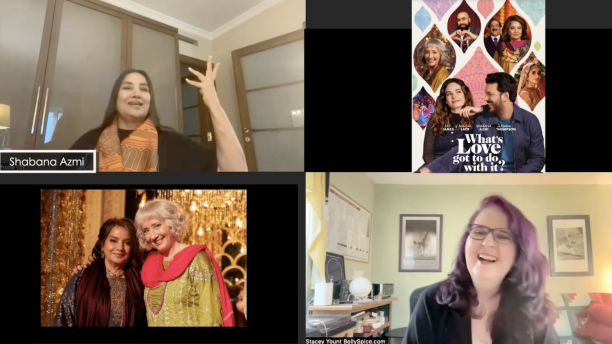 Actress Shabana Azmi is one of the most respected actresses in the world of cinema. In the Hindi Film Industry, Shabana Azmi is known for her incredible performances. The actress has also delivered notable roles in films in England and the United States. Her newest film is the Shekhar Kapur directed movie What's Love Got to Do with It?. A romantic comedy with a deeper story to tell, the film also features Lily James, Shazad Latif, Jeff Mirza, and Emma Thompson.
Written by Jemima Khan, the film seeks to answer the question of how you find lasting love in today's world. It is the story of documentary maker and dating app addict Zoe. For her, swiping right has only delivered an endless stream of Mr. Wrongs, to her eccentric mother Cath's dismay. For Zoe's childhood friend and neighbour Kaz, the answer is to follow his parents' example and opt for an arranged (or "assisted") marriage to a bright and beautiful bride from Pakistan. As Zoe films his hopeful journey from London to Lahore to marry a stranger his parents chose, she wonders if she might have something to learn from a profoundly different approach to finding love. What's Love Got to Do With It?
In this fascinating video interview, Shabana Azmi delves into the origins of her acting career, talks about how she chooses her roles, as well as how she developed her character in the film Aisha Khan, a middle-class Pakistani woman who migrated to England with her husband decades ago and is Kai's loving mother. Ms. Azmi also discusses working with Shekhar Kapur again, reveals how much she loved working with Emma Thompson, and what she hopes audiences will take away with them after seeing the film. And there is so much more, so hit play!
It was an incredible conversation and I thank Ms. Azmi for the amazing answers!
What's Love Got To Do With It? is in theaters in the UK now and opens in India on March 3rd.