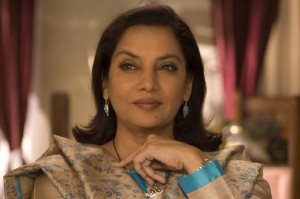 Acclaimed actress Shabana Azmi has joined the cast of Hollywood's The Black Prince, a film telling the tragic yet fascinating true story of Maharaja Duleep Singh the last King of the Sikh Empire in Punjab. Son of the powerful ruler Ranjit Singh, he was born in 1838 and placed on the throne at the age of 5 after the death of his father. In 1849, when Punjab was annexed to British India, the young prince was removed from the throne and eventually sent off to England. His attempts to return to India and reclaim his kingdom were thwarted by the British. He ended up a pauper, dying alone in a Paris hotel in 1893.
Co-produced by Brillstein Entertainment Partners executive Jai Khanna, the drama will be directed by Kavi Raz and features the acting debut of acclaimed singer-poet Satinder Sartaaj.
One of the most highly respected actresses in India, Shabana Azmi has appeared in over 120 Hindi and Bengali films in both mainstream and independent cinema as well as several international projects. The veteran actor will star as Rani Jind. She was the youngest wife of the first Maharaja of the Sikh Empire, and the mother of the last Maharaja, Duleep Singh. She was renowned for her beauty, energy and strength of purpose. Shabana is currently in the UK theater production Happy Birthday Sunita.
Also joining the cast of the bilingual English-Hindi film are Jason Flemyng and Amanda Root.
Jason Flemyng will star as Sir John Login, the Scottish surgeon who was appointed as guardian to Maharaja Duleep Singh in 1849. At the time, the young Maharaja was only 11 years old. Jason's credits include Lock, Stock and Two Smoking Barrels and The Curious Case of Benjamin Button.
Amanda Root will star as Queen Victoria. The Maharaja was exiled to Britain and while there was befriended by Queen Victoria. The Queen admired the young prince and it is reported that she wrote: "Those eyes and those teeth are too beautiful". The Queen was godmother to several of his children. Ms. Root's credits include Jane Eyre, Persuasion and The Iron Lady.
Stay tuned we will keep you up to date on this exciting new film.
Other exciting projects from Shivalaya Entertainment, a L.A.-based development and financing partnership between Brillstein's Jai Khanna and Ajay Devgn are in the works including the venture's maiden project, Parched — revolving around the challenges faced by women in rural India directed by Leena Yadav. Khanna is also on preproduction on director Rohit Batra's The Field, which will star Ray Liotta. The New Delhi-set crime drama will begin shooting this fall. Also on the slate is a World War 2 action thriller Crashland, penned by BEP client Himkar Tak. The newly optioned Paul Theroux's The Elephanta Suite is in pre-production and will go to the floor next spring.