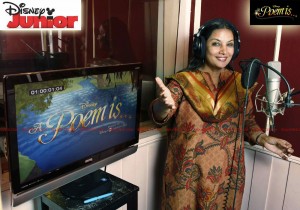 Disney Junior, the learning-focused block for kids aged 2-7 on Disney Channel will usher in the holiday season with the launch of two brand new short-form series – A Poem Is… and Tasty Time with Chef ZeFronk. Beginning December 19, these shorts will play out multiple times daily on Disney Channel.
Arnab Chaudhuri, executive director content and creative, Walt Disney Television International India, says, "The launch of these new series further demonstrates Disney Junior's dedication to programming that highlights the importance of great, heartfelt storytelling with learning components, including poetry and life skills. Both A poem is… and Tasty Time with ZeFronk are wonderful additions to the already robust offerings from Disney Junior and showcase how Disney's content strives to entertain and inspire learning while embracing positive values."
A Poem Is… is a short-form animated series showcasing poems for children set to scenes and imagery from classic Disney films including Dumbo, Bambi and Lady and the Tramp. Narrated by award winning actress and poetry enthusiast Shabana Azmi in Hindi and well-known actor, director Suhasini Ratnam in Tamil and Telugu, the series is designed to bring back fond memories of Disney classics for parents and cultivate new ones for kids by introducing young children to the beauty of a poem. Featured poems include works by Robert Louis Stevenson, John Howard Payne, A.A. Milne and Henry Wadsworth Longfellow, among others.
One of the most versatile personalities of the Tamil film industry, Suhasini Ratnam says, "Children these days know poetry only to score marks in school. This series is about making poetry interesting for them and it's only right that somebody fond of the language does it."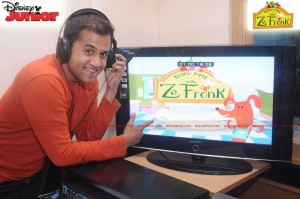 Award winning actress and poetry enthusiast Shabana Azmi says, "Children typically respond well to reading and writing poetry, as it fuels their imagination and creativity and allows them to express themselves. What a great way to learn, memorize and share. Some of the poems are going to be sentimental and sweet, the kind that will warm a mom's heart, and some of them will be silly and funny to make kids giggle and laugh."
Disney Junior will also feature a series of five-minute long shorts, Tasty Time with ZeFronk encouraging kids to cook with their families and have lots of fun along the way. Renowned Comic Actor, Omi Vaidya lends his voice to chef ZeFronk who hosts a fun-filled cooking show for kids from his doghouse with his assistant, a songbird named Sue. With the help of his assistant, ZeFronk whips up fun and healthy snacks for kids in every episode.
Renowned actor, Omi Vaidya says, "Being an ardent fan of the channel since childhood, it feels great to be in a Disney show. Little ones love to watch cooking from an early age and the highlight of the show is that it involves a lot of fun and learning at the same time. Parents will be encouraged to watch the show and cook with their kids."
In addition to the fun-filled shows on TV, Disney Junior will soon be available "on-the-go" as a special magazine with tons of activities and stories. This is in addition to a series of DVD content featuring select Disney Junior shows already available at retail. Parents and caregivers can also access loads of games and on-line activities of Disney Junior content online through a dedicated section on www.disney.in.