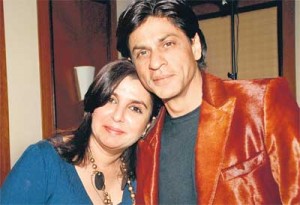 Shah Rukh Khan and Farah Khan have hit the headlines again but this time no punches were thrown or negative words exchanged but rather to confirm that the two will come together as friends again after a long five year. The film which will bring Farah back to the directors chair and SRK as her favorite hero will be called Happy New Year.
This may seem unexpected to some given SRK's recent fight with Farah's husband but a close source says, "After the fight SRK had with Farah's husband Shirish Kunder at Sanjay Dutt's party in February, the duo patched up. They even met a few times at home after that. It was during one of Farah's visits to Mannat that they talked about working together again. Before SRK left for a 40-day schedule to London for his next film, Farah narrated the script and he instantly said yes. Apart from his wife Gauri, SRK's close friends Kaajal Anand and Karan Johar have been instrumental in bringing the warring duo back together."
It is understood that the script had been thought up before the last film they worked together in Om Shanti Om. Farah went on to make Tees Maar Khan which pushed the idea back further but both seem very excited to get the story told to audiences. Farah has recently been to London to confirm all the dates with Shah Rukh.
For the former best friends at has not been a smooth road in patching up their differences. Originally it is rumored that Farah was upset at SRK for stalling on her husbands project for five years before dropping it which lead to her casting Akshay Kumar n Tees Maar Khan without informing Shah Rukh. More recently Shirish (Farah's husband) made sarcastic comments on a social networking page followed by a fight at a bollywood bash.
All seems to be well however with both sides making up and putting there differences behind them. While Farah is working on the pre production on Happy New Year, Shah Rukh will continue to work on the highly anticipated Yash Raj project starring Katrina Kaif and Anushka Sharma.