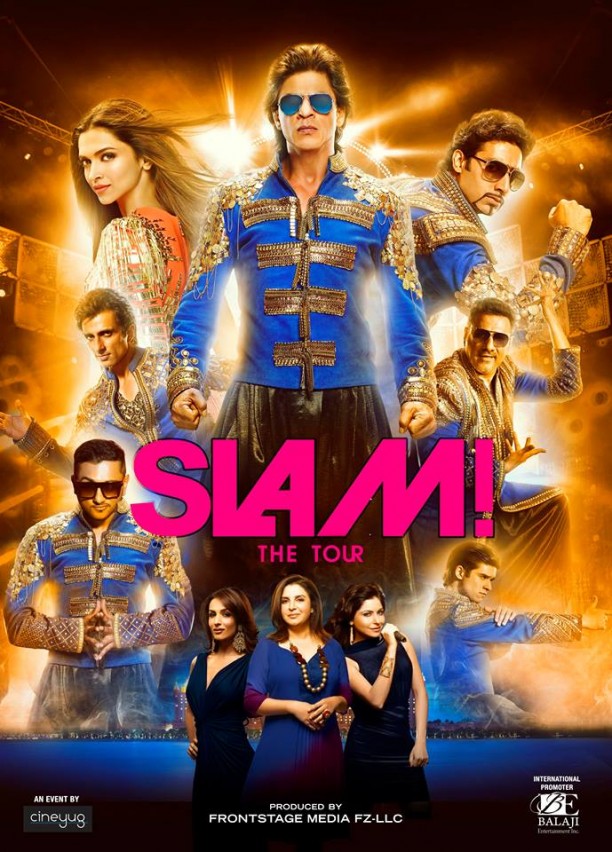 Yes, Bollywood fans Slam the Tour has hit America! The extravaganza features some of the biggest Bollywood stars and a promise to entertain you like never before. So get ready to dance to the beat and get Slammed with Happy New Year's director Farah Khan Kunder, as well as the stars of the film Deepika Padukone, Shah Rukh Khan, Abhishek Bachchan, Boman Irani, Sonu Sood, and Vivaan Shah. Also on the playlist is Yo Yo Honey Singh, Malaika Arora Khan and singer Kanika Kapoor plus many more surprises! We hear it will be a night of wonder full of killer music and amazing dance sequences!
SLAM! THE TOUR starts September 19th in Houston, then moves on to New Jersey on the 20th, Washington DC on the 21st; then Chicago the 26th, the 27th it hits Vancouver and will conclude Sep 28 in San Jose, California. Then on to London!
Check out what the superstar had to say about coming to the US in this fab video

To tease you more!

For tickets www.slamthetour.com