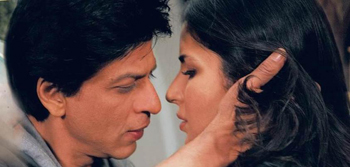 Whilst watching Shah Rukh Khan's latest outing in Yash Chopra's Jab Tak Hai Jaan, the jaws of his female fans probably dropped when they saw their hero doing something which they presumed he would never do and has never done before: kiss his female co-star on screen. Shah Rukh explained to the Indian media why he made this one exception for Jab Tak Hai Jaan, which led to him locking lips with Katrina Kaif in a few scenes for the film. "I will be very honest. Adi (Aditya Chopra), Yashji and Katrina, and I say this with all humility and thankfulness to them, that they knew I was awkward, I had issues and I am a very easy actor to work with. They are like my family and they said, 'You don't have to do this' and then they got together and they forced me and then even paid me for it." "So when heroines say that 'I wore a bikini because the story demanded me to,' I did it (the kiss) because the story demanded it. Believe me or don't believe it." Surely, kissing Katrina Kaif is a move which came as a bolt of lightning for Shah Rukh's hard-core fans.
However, the actor says that though the kiss was a first during his twenty year career, he made the exception due to Yashji. "He spoke to everyone and he said, 'Shah Rukh, this is a requirement'" Shah Rukh has stated numerous times to the media that there are two things which he would never do on screen: kiss his female co-star and ride a horse. Now that he has broken one of his rules, we wonder if Shah Rukh will be riding a horse anytime soon in one of his forthcoming films.
Jab Tak Hai Jaan is in cinemas now!