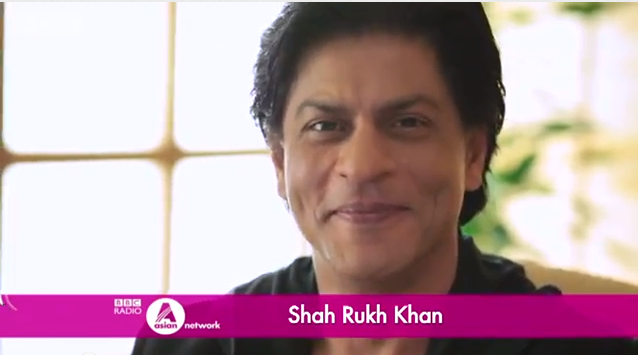 As we told you earlier, in an exclusive five-part series on the BBC Asian Network titled Shah Rukh Khan's Heroes, the Bollywood star has been sharing previous untold stories of his idols as part of the station's Summer with the Stars campaign. The shows, which air on the station all week from 7pm, gave the Don star the opportunity to pay tribute to those who have influenced and inspired him the most. He also delves into the world of his favourite songs, revealing why he connects them to his five inspirations.
So guess who he considers one of his all time heroes? None other than Amitabh Bachchan! In one of the shows he specifically shone a spotlight on Mr. Bachchan one of Bollywood's most popular icons. Mr. Bachchan has acted in hundreds of films during a career that has spanned more than four decades and he is now regarded as one of the greatest and most influential actors in the history of Indian cinema. Shah Rukh describes him as "a hero to millions and billions" and states that one of his personal greatest achievements was when he "was able to stand in the same frame (as Amitabh), breathe the same air and that I got to work with him."
Already this week he has talked about his father, Taj Mohammed Khan and field hockey player Dhyan Chand. These episodes are available to listen back to online for up to 7 days here.
In the first episode, Shah Rukh Khan paid homage to his father as the "most important hero of my life". Named as one of the youngest freedom fighters for India at the time, Taj Mohammed Khan, from Peshawar, played an integral part of Shah Rukh's life, right up until he died of throat cancer when Shah Rukh was just 15 years old. The My Name Is Khan star credits his father as the reason for him becoming an actor, explaining how he drew similarities between him and his brother, labelling them both as "artists".
The second episode focused on one of the greatest field hockey players of all time, Dhyan Chand. The actor reveals how he has learnt from Dhyan's accomplishments saying "success is not something that can be passed on. The greatest of people, the most successful of people perhaps will never be able to teach their children or their colleagues, to be as successful as they were."
The actor also discusses the actresses who have starred alongside him over the last twenty years. He says he is lucky to have worked with three generations of leading ladies, labelling it as "a great learning experience" and declaring that the "heroines have made me the star that I am."
In the final programme which will air tomorrow, the Bollywood star dedicates his last Hero slot to the "ordinary man – a man who is normal, like you and I." He talks about his faith in God and religion and how he truly believes himself to be an ordinary man – doing things exactly like other normal men. Explaining that these ordinary men are heroes because they enjoy life in spite of the world's issues, he says, "It's not the cost of the shirt or jacket that you wear; it's just how much you enjoy wearing it".
In addition to this, the King of Bollywood will also present The Shah Rukh Khan Show with the help of BBC Asian Network Breakfast Show presenter Tommy Sandhu on the 20th June. Bringing him directly to Asian Network listeners, there will be the opportunity to meet the star whilst he is in the studio through an exclusive competition (details to be announced over the coming weeks).
This special series is part of a selection of exclusive content from some of the world's biggest Asian stars. From May to September, the BBC Asian Network is presenting a range of programming as part of its Summer with the Stars campaign. This includes specialised meet the stars events, comedy, drama and dedicated programmes, where listeners can hear from stars like cricket sensation Shahid Afridi and comedy actress Meera Syal. For more information on the Summer with the Stars campaign please click
here.
Check out this great video of him taping his shows!
httpvh://youtu.be/Zu-4R_DrMI8
Shah Rukh Khan also sends you his own personal approval and wants you to know that you are a Hero! – Keep Khan and Carry On!
httpvh://youtu.be/lCssM1c4NSU