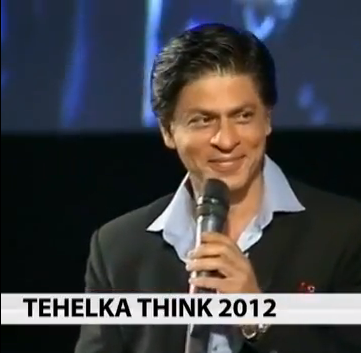 Shah Rukh Khan is one of the biggest names in Bollywood. Known for his various romantic portrayals of Raj/Rahul and many others, this is the man of whom the Germans say 'He gives us a button to cry'. To be able to entertain is one thing, but to be able to touch people's hearts and make them cry is a totally different thing altogether.
In an emotional interview during the Tehelka ThinkFest conclave the 47-year old opens up about his parents, what he learned from them and reveals that he 'acts to avoid depression'. It takes a lot of guts to put your self out there and SRK has done it many times. If you have followed Shah Rukh Khan's life and career, you know this comes from the immense emotional baggage he carries with him: the loss of his parents and his sister begin unwell.
The actor has been working on an autobiography, which sketches his life from childhood to stardom, for awhile of years now. He is still in the process of writing. "The autobiography was to be called 20 years of a decade because I felt I had crammed 20 years into the decade. It's now been 22 years and the book is still not complete."
The autobiography reveals a side of Khan we do not know. At the ThinkFest he spoke about the chapter he wrote about his parents. "The exposure of my inner self is that I think my father is the most successful failure in the world. And I am proud of him. I remember him as a very gentle person. He taught me a lot of things. As years are going by I remember things he's told me. Once, my father took me to show a cinema in Delhi. He did not have enough money, but he didn't tell me. We sat near Kamati auditorium and he told me that it is wonderful to see the vehicles passing." "I think I have imbibed the fear of failure that I have seen my father go through. And I didn't want to fail like him. When I promise to take my son out for a movie I should be able to show him the movie and not the cars at a roundabout though that was fun too," Shah Rukh added.
His parents made him the man he is today and their way of life is still significant and of huge influence in the way he approaches life and work. His father, Mir Taj Mohammed, was the youngest freedom fighter in terms of age, an idealist and lawyer by profession. But he never practiced the profession as 'he could not lie", says SRK. His mother was more practical. Both his parents believed that when your child is educated they'll have a good life and that is exactly what they worked towards all their life. In fact, he feels the enthusiasm he has for film and to succeed comes from his mother. "She was a go-getter, very enthusiastic and had a lot of energy to earn money to educate us."
Both parents died between the ages of 49-50 and "I just turned 47 the other day so that's a bit scary thought", he smiles. The time spend with his parents was an education on itself. "It was their education which makes me a very pragmatic practical poet. It makes me someone who has dreams like my father did. I am a believer, idealistic, utopian, thoughtful and gentle like my dad and I want to do all those things with a stomach full of food and have a good car and a good house. I don't deride myself, when I say I am kind of a bit of a capitalist. Its just that I am a survivor who wants to live well and think well."
He recalles the days when his father was sick. "My father died of cancer, liver and lung. The last few days he couldn't speak, so we would play dumb charades or he would write stuff. He, obviously like any other, was in love with his daughter." Khan remembers that when the body was brought home, they had not told his sister yet that their father had died.
When he brought his sister home from school she just collapsed at seeing the body. "My sister saw his body, looked at it and just collapsed and for the next two years she did not recover from the shock. She didn't cry but she could not face the reality of our father's death," he said. "During DDLJ she was again hospitalized and they said she won't survive. I took her to Switzerland and got her treatment while I was shooting for Tujhe Dekha Toh Yeh Jaana Sanam." Unfortunately she has never fully recovered from the suddeness of his death, though she is doing much better.
And while she could not face the reality of the loss of her parents, Khan says he somehow developed a sense of detachment, "a sense of humour to cover up the sadness effecting my life and me becoming like my sister". He went on to say, "I love my sister how she is. She is a much better person than I can ever be. I think she is a child of God and very naive and innocent. My kids love her more than they love me and my wife. And I very glad she is a part of my life like this."
He goes on to add "A lot of things which are Bollywood-like or flamboyant in me are actually to cover up my emotions. I don't have guts to be as simple. To avoid depression I act." Shah Rukh said that 99 percent of the things, which he depicts in the films, are experiences of his life. "I think this is the most honest I have ever been in my life."