It's now quite obvious that the Bank Chors will not stop at any length to get people to laugh at them. They may be incompetent at real choris, but on digital, they are happy (and desperate) to steal anything and everything that will get them some much-needed attention.
With its newest mad promotional idea, Bank Chor came up with multiple 'chori ke posters', which they stole from popular Bollywood movies. From Aamir Khan's Dangal to Salman Khan's Tubelight, the crazy Bank Chors stole them all. They even did hilarious take on Shah Rukh Khan's Ra.One!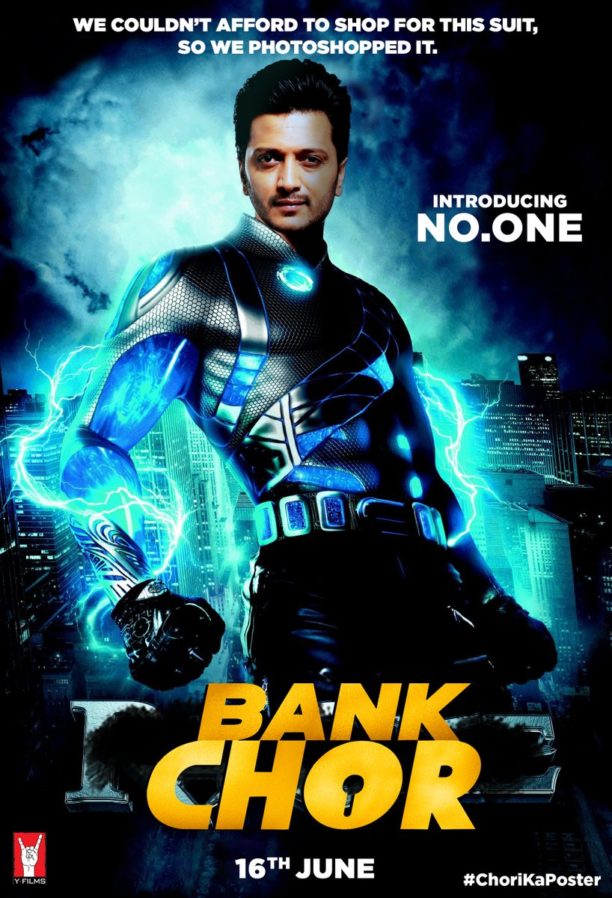 King Khan took notice when he saw the poster on Twitter and not only that he also sportingly joined in the fun, proving that he is the King of Humour too.
The Bank Chors said in the poster (quite honestly, in fact) that since they couldn't shop for G.One's suit, they photoshopped it. SRK, who is known for his self-deprecatory charm, responded to Riteish Deshmukh saying even he couldn't afford it for the sequel, and he wants the Bank Chors to steal it!
I also couldn't afford the suit for part2… Dekhna bhai if u get a chance during ur robberies get me one too!! https://t.co/z3ipp9tQMm

— Shah Rukh Khan (@iamsrk) May 23, 2017
This interaction has only showed what the film industry knows too well – there is no one more charming, funny, or willing to take a joke on himself, than the King Khan himself! And by tweeting this, he gave legitimacy to the funny ideas of the Bank Chors, and ended up stealing their hearts.
Bank Chor is probably the first Bollywood film to take digs at its itself (because it wanted to be the first at something at least!). After the roaring success of the Imaandaar trailer that honestly said everything that any studio would be scared of saying, the Chori ke posters have now gone massively viral too, saving on a lot of digital promotion cost that the film would have had to spend otherwise!
Says Ashish Patil, "When you laugh at yourself, people laugh with you. And when SRK, the King Khan himself, laughs with you, it only shows how big his heart is… and how lucky we are that he's made us famous!"
You can check out all the fabulous Chori Ke Posters here