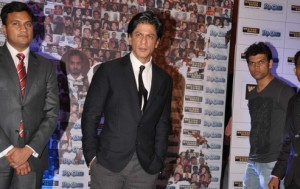 With the advent of opportunities available in movie marketing today, actors are leaving no stone unturned to ensure that their film releases with maximum publicity and word-of-mouth. Taking film-marketing to newer heights, Shah Rukh Khan is seeking the best brands for association with his life's most ambitious project Ra.One. At a media meet earlier this week, Shah Rukh announced the association of Ra.One with Western Union, the global leader in international money transfers.
Commenting on the association, Shah Rukh explained, "No super-hero is complete without his super powers. To facilitate children's growth of life, their studies, finding jobs or just bringing up our children, we all are attempting in our small and big ways to be super-heroes to them. We are working hard, and we are trying to make some kind of economic viability in our families. But when these super-heroes working across the globe, having families in remote villages, how do they spend money home faster? That kind of super-power, Western Union gives our super-heroes. Infact, the tagline, 'Money in Minutes', I think is an amazing concept, that from wherever you are, your family needs money, Western Union makes it possible. I think this association of a super-hero film that we have, and I hope everyone likes it"
Talking about how the team came up with the title for the film, SRK said, "When I named the film Ra.One, my friends told me that normally super-hero films are named after the super-hero; keep it G.One or something pertaining to the super-hero. But I had this creative insanity that we will name it after the villain and will not disclose the villain till the end".
When quizzed about the reason for keeping Arjun Rampal's character 'Ra.One' look under the curtains, SRK clarified, "The film is a family-film, as the promotions go on, you will understand it. We will show the super-hero, while we will keep Ra.One as a novelty. I also believe that evil has no face, anyone who follows the path of evil, becomes one himself. So that's why I didn't want to reveal the face. There is nothing special and now; I'm getting scared of people's perceptions, expectations from the character"
"I would like to thank Anil, Kiran, Rajesh, which Western Union thought of us, our film as worthy of an association, which will be very profitable for us".
In true SRK inimitable spirit and charisma, he grooved to 'Chammak Challo', sang a few lines from his film and kept his audience entertained as always.
Western Union will roll out a worldwide campaign focusing on key Indian diasporas countries and will encompasses TV, radio, print and outdoor advertising as well as local promotional activities at Western Union Agent locations across the globe.