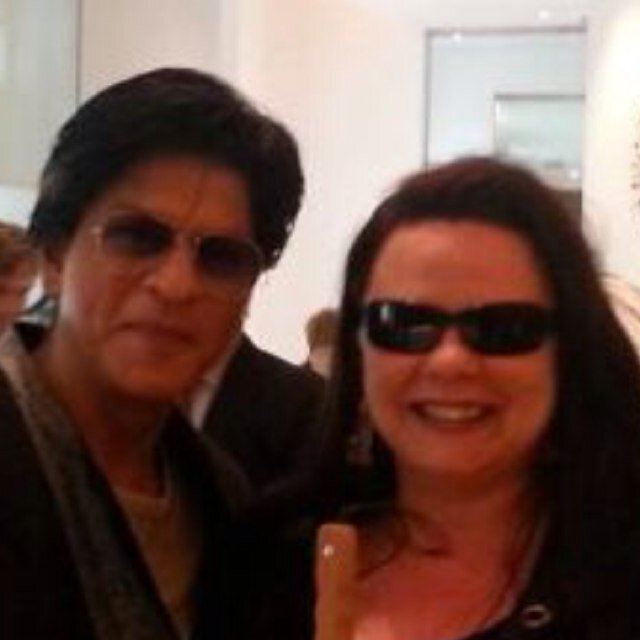 Shah Rukh Khan has made a dream come true for a blind fan who waited eight years to meet him.
After losing her sight in 2005, Caroline Zeder fulfilled a long-standing wish to touch the actor's face. Khan met with the Swiss Bollywood fan while he was was in the UK on a short visit to attend a wedding.
Zeder told Steven Baker, "Suddenly beside me, he said 'Hello Caroline'. I was so unsure what to do; shaking hands, or could I maybe give him just a hug? He tapped his finger on my shoulder and just embraced me. It was a long hug, really long. He asked me how I was and if I was enjoying London."
"He apologized that he had so little time as he had to catch a plane to Dubai. But I couldn't let him go without touching his face. I'd been waiting eight years for that moment to finally know how he looked," she added.
She then gathered up her courage to ask her special wish, "So I grabbed all my courage to ask him if he remembers what he opromised me as DJ SRK. He knew! He knew exactly who I am and what he promised. I asked if it would be cheeky to touch his face. He said, 'Not at all'."
He listened carefully as I explained him that I can't do it while so many people surrounding us so he just took my arm and guided me to another place with more privacy."
"I touched his face!!! I was so overwhelmed," she said.
"He again gave me a huge hug before saying goodbye. He is so humble and beautiful, more than I could ever imagine.
"But what really touched me deeply was the love he gave me with his hugs. He has an an absolutely unique aura. I never felt like this before! Love, hope, beliveing, shyness and strength."
Says Zeder, "I will never ever forget that moment. Thank you, Shah Rukh Khan."

Image from Caroline Zeder