One of the first names that comes to mind when you think of heroes of the Hindi film industry, he is one of the biggest and most enduring stars in India and has legions of fans from all over the globe. He has created some of the most iconic characters in the canon and has portrayed roles that range from romantic, funny, tragic, disturbed, dark and even some who have all of those qualities and more. We are, of course, talking about the incomparable Shah Rukh Khan.
His newest release is the drama Raees, a fictitious story set in Gujarat, India during early 1980 into the 1990's.  Directed by National Film Award winner Rahul Dholakia, the film explores how the main character, Raees' relationships and hard work helped him build an entire empire from scratch, and made him the single most powerful man in the state.  However, every controversial leader has his foil. And for Raees, it is the no-nonsense police officer Majumdar, whose sole reason for existence is the elimination of crime.
Set to release on January 25th, the film also stars Mahira Khan, Nawazuddin Siddiqui, Mohammed Zeeshan Ayyub, Atul Kulkami and Sheeba Chaddha.
What is so amazing about SRK, as he is affectionately known, is that although he has done hundreds of interviews and answered thousands of questions, when you talk with him he makes you feel as if this is his first interview about the film. He is always warm, entertaining and so friendly. Case in point: here is how my interview with him about Raees began…
Hi Stacey, this is Shah Rukh, how are you?
I am great. Thank you, and you?
I am good, good. Working as I always have been. It is nice to talk to you again.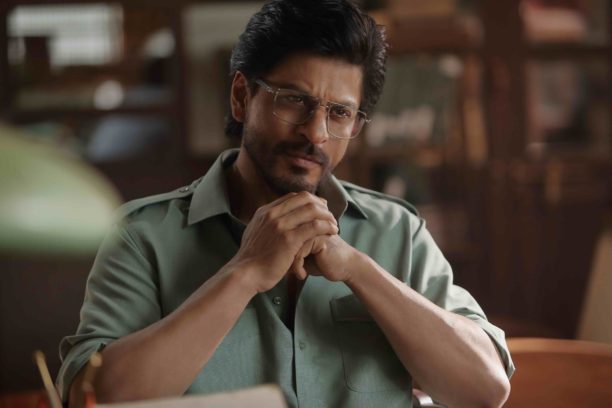 Thank you, it is nice to talk with you again, too! When we spoke several years ago, you said that you like to choose films based on a certain scene or moment. So what was it in the script of Raees that made you want to make the film?
There is a moment in the film where he asks his mother, which is kind of what the trailer is based on, 'Is it true koi bhi dhanda chota nahi hota?', which means there's no work that is just small; there is no bigger religion, bigger belief, bigger faith than work. She adds on to it, which is not in the trailer, 'As long as it does not hurt anyone'. I like that bit a lot. That no business, no work is small; it is bigger than any faith that you can have, as long as it does not hurt anyone. He lives by that maxim and I found that very interesting. For a bad guy, doing a bad job, in a bad business, in a bad world – I found that extremely interesting.
This character seems to have two sides to him; the bad guy in the bad world, but he also he seems to me to have a more tender side or maybe he is a nicer guy. Would you say that is true?
All of us do Stacey, you know. When we are really good – we do have a bad side. When you are really bad – you have a good side. Nobody is to judge that and turn around and say you can't tell a story about a bad guy or a good guy, because they have either of the two sides. All of us have some element of humanity, goodness, whatever one may call it, and yeah, so does he. For me, the biggest trait that Raees has is that he stands up for his actions. He takes responsibility for what he does, good or bad, and stays with it. He is powerful enough to shirk it, run away from it, shove it under the carpet, but he doesn't, because he lives by that maxim. As long as you don't hurt people, what you do is good enough. To me that is an extremely good statement.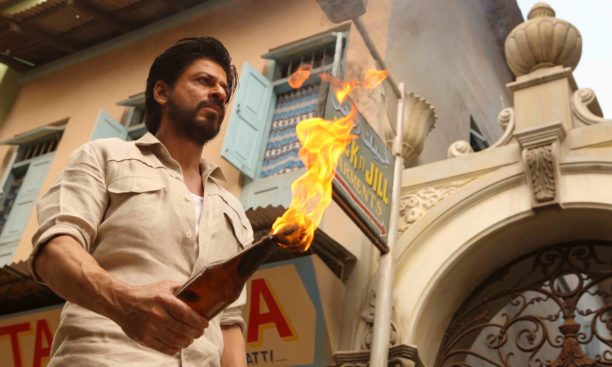 How do you approach a role like this?
Rahul [Dholakia] is an extremely well prepared director; his writers have done research about this whole phenomenon of bootlegging in the 80s and 90s all around the country. They interviewed a lot of people – a lot of men and women. They devised and worked out what kind of a guy they wanted me to play. You know, I am more urban; I haven't lived in that part of the world. I don't know how all this works. So for me, it was very interesting to get into something that I don't belong to, and perhaps I haven't even experienced too much. They were very helpful, his whole team – the writers were very helpful. The way they have written the scenes is very helpful. He [Dholakia] had a very clear take from how I would look, to how I would walk, to how I would talk. I just tried to give into him and say, you know what, Rahul, I will try my best and try and live this role.
The only thing we both agreed on was that there is a certain amount of dignity that Raees should have – whether he is good guy or a bad guy or whatever he says. As long as we can maintain that we will be true with the character. That is what Raees stands for; there should be a certain amount of dignity, whether it is in a bad world or a good world. I kept that in mind.
When you are really powerful, the one little hint Rahul gave me, is that you should try to keep very calm. Because when you are powerful you don't really need to flay your hands and run around and jump and scream and shout too much. It was very interesting.
And my co-actors Nawazuddin (Siddiqui), Mahira (Khan) and Zeeshan (Ayyub) all of them really helped.
In the film, your character is matching wits opposite Nawazuddin Siddiqui, what was it like to do scenes with him?
You know, we are both from theater. Both of us got exposed to a different kind of cinema – I do more popular cinema, he does more realistic cinema, but our roots are the same. We understand feelings. We both come from a similar zone. The first time we met, I respect Nawazuddin a lot, we both read and we both started figuring out how we can make these scenes a little more from our world of theater. Here are these two characters that, okay, hate each other, who don't want each other to exist, but they would not be able to exist without the other. So we thought in all this hatred, if we can build a love story between these two men – that they would want to be around each other – for each one of them to exist too. We are necessary for each other's existence. I think some nice moments have come out of the scenes that we have done together. Hopefully, people will also appreciate it like that.
I had a great time. He is such a wonderful and such a controlled actor with such a gravity of expression. I had a fantastic time. He is easy when you work with him – he is not someone who is very intense, or goes quiet for some time before doing the scene. We had good laughs. Hopefully people will enjoy it.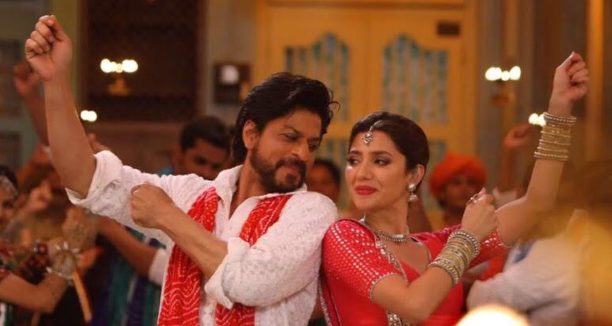 I have always wondered this, do you sing out loud when you are lip-synching while you are filming for the songs?
Yes, yes I do, I do. That is why you see the veins sticking out! Most of my heroines tell me, please don't, because you are so off beat that we miss out on our steps. Madhuri told me the first time. She told me, 'You know what, can you please not sing so loud? You are singing so off key I am missing my steps'. And for Madhuri to miss steps with somebody singing – I must be really bad! I sing really off key, yeah. But I am shameless (Laughs). I sing it out loud.
But you have to almost to make it look more real…
Hmmm I don't know, I think maybe keeping in mind how affected my poor heroines are getting with my off-beated-ness, maybe I should cut it down now.
Looking back over your 25-year career, from your first time on a set until now – what would you say?
Generally, Stacey, I feel exactly the same. I am still as eager to make sure what the director wants so that I get it done. I am still as happy being on a set surrounded by some marvelous actors. Not much has changed.
It is not that I think I know my art and my craft. I just to try to make it happen. I am not too sure it has happened right – I still try to do my best. If my director says do it 40 times, I will do it 40 times. The more you know of acting, you realise the less you actually understand of it.   You want to do more it often. You want to try and make sure that whatever the people who are watching want to see, that am I being able to convey that through my actions, gestures, and looks – whatever. It is very exciting. I find it exciting every day!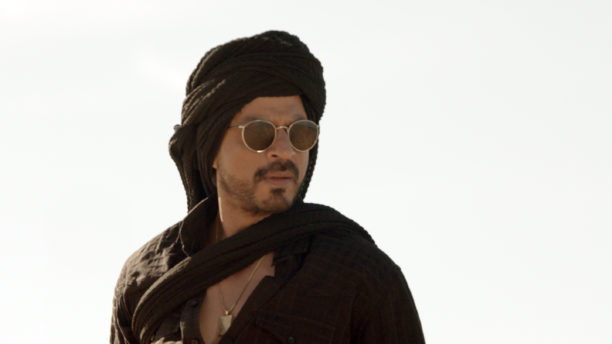 Your fans all over the world love you, what does that mean to you?
I am extremely touched, happy and very grateful that everyone would love me so much around the world. I don't like to analyze, because if I analyze it maybe I will spoil it. I hope people keep loving me. I am extremely thankful. I take this opportunity to say thank you very much to everyone who is reading this. Everybody has been extremely kind to what I do. I will keep trying to make sure that I do it often enough for them to like me as much as they do already!
What do you have coming next?
I am just finishing a film with Imtiaz Ali and Anushka Sharma. We still don't have a title for that. That is finished more or less. We have about 8-10 days left to finish the shooting of that, which I finish at the end of the month after I finish with Raees. Then I have a new film starting in March sometime with Mr. Anand L Rai.
Thank you so much for your time
Thank you so much Stacey. Bless You.
With that he was off, hopefully to rest since it was about 2 am IST, but probably for more interviews. Each time I talk with him it is an amazing experience and I would like to sincerely thank him.
Be sure to watch Raees, from what I have seen from the trailers and songs and even more from this interview, this film and his performance is not to be missed!