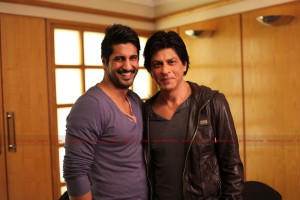 Hindi film superstar Shah Rukh Khan took time out from shooting his upcoming Yash Chopra film to speak exclusively to VJ and 7 Welcome To London actor and director Asad Shan.
The Badshah of Bollywood met with the Badshah of British Asian cinema to record a very special episode of Brits Bollywood.
"As soon as I was introduced, he said 'Hi Beta' and I was floored with his caring personality and charm. Shah Rukh gave fantastic advice for newcomers and first time directors," Shan revealed.
"I shared my film 7 Welcome to London with him and he blessed me with a dua and wished me the best. I must say this was an amazing experience and I got to learn so much."
The former Mr Asia UK went on to add: "I have to say it was a great moment for me personally, sharing screen space with my hero and idol."
BollySpice got hold of some snaps from when the charming SRK met the dashing Asad Shan at an undisclosed location in London on Sunday.
Tune in to Brits Bollywood on Zing music channel, Sky 789 Sunday April 1 at 11:30am, (with repeats on Friday April 6the and Sunday the 8th) to see the full interview.
Global Bollywood fans, you can also catch the show on the Brits Bollywood YouTube channel – new episodes uploaded the same day of transmission on BritsBollywood!