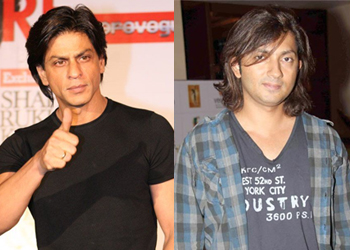 SRK slapped Farah's husband, SRK-Shirish slapgate and SRK hits Farah's husband…These were some of the headlines which Bollywood fans woke up to on Monday morning. The news that actor Shah Rukh Khan had slapped Farah Khan's husband Shirish Kunder at Sanjay Dutt's Agneepath success party had spread like a wild fire. It ignited several rumours on what happened on Sunday morning at Aurus, where the party was held. Let's take a look at the situation.
Desperate measures
When the news of the slap came out, it was immediately known that it was Farah Khan who announced it by sending an SMS to all media. The message read: "Shah Rukh has always told me that physical abuse is the worst way to sort out a problem. It means the attacker has either a personal or professional crisis going on. It saddens me to see him doing the same." Media reacted, posted and was really hungry for more. They tried to contact SRK on the matter. He kept silent on the affair.
They were also on the outlook for people present to know what had happened. Farah, who had not attended the party, maintained that her husband did nothing to provoke SRK. She said, "Those who were present told me that the attack was completely unprovoked. Shirish didn't even know that Shah Rukh was at the party."
Shirish comes with his side of the story
Not only did Farah Khan come with a statement – her husband did the same. He actually gave three statements. In the first one he said he was slapped by SRK, the second one read he was punched in the face and finally it ended with a statement claiming he was assaulted by SRK. Confused? You are not the only one. Even the media by now was wondering which of these to take seriously, but then again, any statement will do, right? So the following statement was repeated on several websites and channels. "Shah Rukh punched and jumped on me. And he had three bodyguards with him. I don't know what got him. I was numb with shock so I couldn't react. He kept screaming at me, 'What do you think of yourself? I'll see to it that you're out of this industry."
The filmmaker added that he was attacked from behind and he was not prepared for it. "I was totally unprepared for this kind of an attack. If I was standing in some area where I would expect some goondaism, I would have been better prepared. But this is a classy party. Who would expect someone to jump on your from behind?" The director adds that Dutt intervened to stop SRK's attack. "I walked out of the party after that. He is taking out his personal frustrations on anyone he comes across."
After that, he went a step ahead and challenged SRK for a fight. "Next time, I challenge him (SRK) to come in front of me to fight. I will give it right back to him. Someone please ask him to stop behaving like an old, spineless faggot. He kept telling me go back to your friend (Salman) and tell him main uski ***** marunga. If he has some problem with that friend of mine, why doesn't he have the guts to confront him?"
SRK not silent?
And while the filmmaker was busy giving interviews, SRK woke up and tweeted. "Another long nite. Shooting for a public service msg film about education peace & harmony. Feels ironic when I read & see wot is being said." After that he went back to work and didn't post anything on the matter until this morning, when 'slapgate' became frontpage news. "Reading stuff and watching tv…Feel like I am the source & author of a Shakespearean farce…without the poetry or the prose of course!!!"
People present vouch for SRK
People present at the party however denied every word the couple said and vouched for the actor, who had just returned from hosting the Filmfare Awards. Ameesha Patel tweeted: "People like @iamsrk are seniors n shud be respected" "@iamsrk is 2 dignified n wud nevr do anything unprovoked..he is too classy n a thorough gentleman".
Famous photographer Dabboo Ratnani was also present at the party where this incident happened. He tweeted "I was present at Sanj's party & Without Any Bias I Fully Support Shah Rukh @iamsrk". On lookers confirmed today that Shah Rukh never pulled Kunder from the back or attacked him on impulse.
The whole incident turned ugly when people took to Twitter and started going against Kunder in a massive way. Actually everybody was more concerned about this 'fight' than any other political problem. Go figure!
No complaint against SRK?
In the meantime, a website put up that Shirish and Farah were ready to lodge a complaint against SRK and his bodyguards. Shirish denied the news on Twitter, much to everyone's surprise. "Thanks for all your concern & wishes. We are very grateful. Contrary to rumours, we have no intention of filing a FIR or police complaint."
That statement raised a few eyebrows as to why he wouldn't. He had just been hit (no pun intended) by the biggest superstar in the country and he is not taking the issue to the police? Why? Several people took to their website and believed that by not lodging a complaint, like any other normal human being would do after an 'assault', it can only mean he is not innocent to what has happened. But that was not the biggest surprise. That came today in the form of an apology.
Shirish apologizes
The most unthinkable happened today….Shirish went to SRK to apologize. The guy who only yesterday challenged SRK to a fight, called him names, was giving interviews right to left on the issue claiming to be the victim went to apologize to SRK? Nobody (not even Shirish fans saw this one coming) had expected anything like this to happen…atleast not anytime soon. Remember the SRK-Salman fight? They still don't talk to each other.
It seems like both parties were brought together by none other than Farah's brother Sajid Khan. He confirms the news on the Indian Channel Star News. "Yes, I felt terrible about the ugly turn that the whole affair took. Shah Rukh and Shirish had a fight, agreed. But the media didn't have to play it up to the point of making it on the front of national newspapers." He added: "Do you know when my sister Farah and Shirish got married there were only three witnesses. Me, Sajid Nadiadwala and Shah Rukh. We're family. And there're bound to be differences between family members. Yes, Gauri and I took the initiative.All of us met at Mannat over a meal. And it was all sorted out."
Shirish confirmed the meeting and resolution on Twitter:
"Shahrukh and I just met, had a heart to heart chat and have resolved all misunderstandings. All animosity is now sorted for good.Some incidents in our life when resolved makes relationships stronger than they were ever before."

A new beginning for Farah too
Also Farah Khan is happy with the reconciliation. "I can't begin to tell you how relieved I am. This had turned really ugly. And before it got uglier my brother took matters into his hands. Full credit to Gauri for making the reconciliation happen. When my brother asked her where we should meet she said Mannat, because she said it's Farah's home. I am so moved."
According to Farah this is not only the end of the ugly spat between her husband and Shah Rukh, it is also a new beginning for her and Shah Rukh. "I really liked what he said. He made us promise to wipe out all the bitterness of the last two years and start afresh. I feel like a big burden is off my back."
What really happened…? Or not?
Well, it seems now all is sorted out and everybody is happy. In the meanwhile, when everybody was following the story on the internet, several stories on what happened between Shirish and SRK started floating around. One can be a bit wary as many of the stories that came out yesterday were basically crap. The difference with yesterday is that the stories of today seem to be stating lots of the same facts:
* Shirish was at the party and was misbehaving with girls
* Shah Rukh Khan came in around 3 am with friends
* Sanjay's wife went to Sanjay to show him an sms. Sanjay chooses not to react
* A close friend of Sanjay, goes to Kunder and asks him about the SMS
* Shirish pushes him away. Sanjay and SRK see what happens and intervene. Kunder pushes Dutt. That's when SRK takes matters into his own hands and slaps him.
* Shirish is asked to leave. A visibly irritated Sanjay and Maanyata leave the venue with SRK.
What REALLY happened…. I don't think we will ever find out. Only the people present, Sanjay Dutt, Shah Rukh Khan and Shirish know the truth. And none of them actually spoke on what happened.
Jokes on Slapgate affair
The whole thing could have turned even more ugly, but was nipped in the bud. But that doesn't mean that people didn't get their creative brains working on some of the best jokes on the SRK and Shirish slapgate affair. Watch out for the next article in which we bring you the best jokes on this issue.