Kunal Kohli's Teri Meri Kahaani stars one of our favorite jodis, Shahid Kapoor and Priyanka Chopra! The film, which is about love through the ages, is set to release on June 22nd! Shahid fans, we have an exclusive contest for Teri Meri Kahaani and BollySpice wants to hear from all of you! It is easy and the prizes, well we think they are pretty cool!
Here's how it works
First watch the trailer:
Then we want you to write in as little or as many words as you need on which of the three characters Shahid plays in Teri Meri Kahaani is your favorite and why!
So do you love 1910's Javed and his smoulder?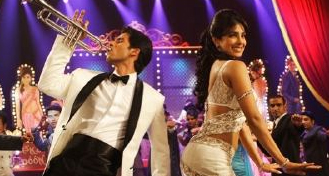 Or does 1960's Govind make your heart dance?
Or are you the modern girl looking for the cuteness of Krish?
The best entries will be put together in an article and published on BollySpice.com. Plus there is another special treat, so stay tuned for that!
Email your answers to editors@bollyspice.com along with your name and in the subject line please write 'Shahid contest'.
We look forward to reading your answers!
By the way, Priyanka fans don't worry, we are not leaving you out! Your contest is coming up soon too!
Stay tuned because BollySpice is going to be bringing you all kinds of Teri Meri Kahaani exclusives!