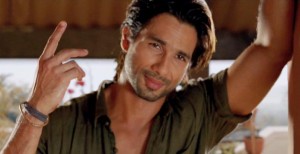 Not only are fans eagerly awaiting to see the Priyanka Chopra- Shahid Kapoor starrer Teri Meri Kahaani, we are also really excited to hear the full OST that Sajid-Wajid has composed for the romantic film. So far the two songs we have been treated to 'Mukhtasar' and 'Humse Pyar Kar Le Tu' have been huge hits. What else do Sajid and Wajid have in store for us? Well, it seems we will find out because the music release could be happening very soon. One cool thing we have learned is that there is a song that really touched star Shahid Kapoor.
We hear that Shahid has been feeling nostalgic whenever he hears the Sufi Qawalli song from his upcoming film Teri Meri Kahaani. Shahid says he almost went back to his roots when director Kunal Kohli shot the song at the dargah.
"'Allah Jaane' is my most favourite song since it's a Sufi Qawalli. And it's also the most romantic song in the ablum. Rahat Fateh Ali has sung it beautifully. I was very excited since a portion of the song has been shot at a dargah and when you see a sufi singer at a dargah singing with full feeling it takes you to another high. I got to this portion when my character Javed sits in the Dargah doing that," says Shahid.
It did not end with that. Shahid later showed the portion of the song to his mother. "My mother belongs to a muslim family and when she saw the song she was very excited she instantly said you are finally going back to your roots. It was a great feeling. The song is a melody and has been shot on different locations. It's going to be one of the most iconic songs," he says.
We will have to wait and watch (very impatiently) until we can see 'Allah Janne'and the thrice upon a love story when Teri Meri Kahaani opens in theaters on June 22nd!