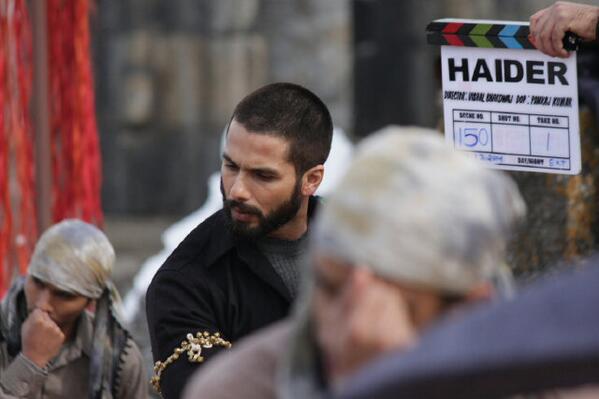 When fans heard that Vishal Bhardwaj was once again going the Shakespeare way, they were, of course, excited. Then it was announced that the film would be an adaption of Hamlet, and on everyone's mind was "we can't wait to hear who will play the iconic role". When it was announced that Shahid Kapoor would take on the challenge, the excitement for the film increased even higher. Titled Haider and also starring Tabu, Shraddha Kapur and Kay Kay Menon, the film is set to release in September.
According to Amar Butala, Creative Director, Studios, Disney UTV who are co-producing the film, Haider is a "Shakespearean interpretation set against the backdrop of militancy in Kashmir. It has some remarkable performances and great music. We believe Haider will be a worthy successor to Maqbool and Omkara".
Before filming the actor tweeted the classic Hamlet line, "Here's to doing wat I love …… To the highs and the lows …. To the hectic ness and the silences … To b or not to b …"
We know that the actor completely surrendered to the director, the character and the film, even going so far as to shave off all of his gorgeous hair. "I believe in the script and have completely surrendered to Vishal sir's vision of my character and my look."
Director Bhardwaj had nothing but praise for his actor, "It's commendable the dedication with which Shahid has bitten into his role and its every aspect. And he is doing complete justice to Haider."
During the shoot, Shahid tweeted about the film and shooting in Kashmir, "Morning all #haider and his complexities have kept me occupied the last month or so. Last week of shoot in this heavenly valley."
Filming for Haider has wrapped and Shahid revealed on Twitter, on his last day, that Haider was an amazing experience, "Last day on HAIDER sets today. Been an amazing journey. Thankful for the experience . Keep it real .. make every day count."
Then the last shot was canned on what Shahid says was a very challenging and complex role, "It's a wrap on Haider… Only when you play Hamlet you realise what a complex part it is… Probably my toughest yet!!"
So what's next for the actor? First some serious couch time and then on to the next film. As for what that will be, we will have to wait and watch.
For now, we can eagerly anticipate Shahid's Hamlet aka Haider!