Shahid Kapoor is considered one of the best dancers in the Bollywood industry and one of the coolest things is that he can not only groove to the modern beat, he can also show a more classic side as well as put his own vibe into the dances that came before him. In Teri Meri Kahaani, Shahid Kapoor will pay tribute to late Shammi Kapoor's fabulous dance moves
Shahid was very keen on doing these steps since he has always admired Shammi Kapoor as a dance icon. "I have grown up watching Shammi sir's films, and have always admired him. I especially loved him in Teesri Manzil (1966) and Kashmir Ki Kali (1964). He is still a style icon for a lot of youngsters even today," says Shahid.
As you probably have guessed this tribute will be shown in the 60's era of the film. "For the track set in the '60s, director Kunal Kohli gave me a video compilation of his films and songs to pick up nuances. Through this track, we are paying homage to the Elvis Presley of India," adds Shahid.
To create the character and the dances of Shahid's 1960 character the cutie Govind they used references from the films of !960 and so Shahid's posture and mannerisms will have traces of Raj Kapoor and Dev Anand, while his dance is inspired by Shammi Kapoor. "We have been very particular about not making these references look like spoofs, because we don't intend to make fun of them. Shots from Shammi Kapoor's '60s films like Junglee, An Evening in Paris, Teesri Manzil, Tumsa Nahin Dekha, Dil Deke Dekho were part of the main references," informs producer/director Kunal Kohli.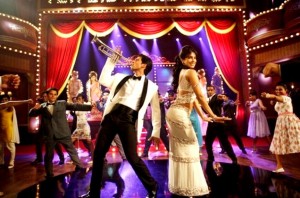 Teri Meri Kahaani, which also stars Shahid's reported ex-girlfriend Priyanka Chopra, has the duo sporting three different looks to match the eras, and costumes have been designed by Manish Malhotra and Kunal Rawal. The director adds, "We made a compilation video of Mumtaz and Saira Banu for Priyanka, so that she could pick up nuances of how they walked and dressed."
This is not the first time that Shahid will be paying a tribute to Shammi Kapoor. He had earlier paid a tribute to Shammi Kapoor at the Zee Awards show, along with Ranbir Kapoor.
Teri Meri Kahaani opens on June 22nd!