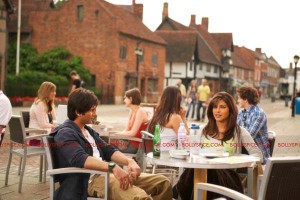 Shahid Kapoor and Priyanka Chopra are all set to star together once again in Kunal Kohli's Teri Meri Kahaani who says their chemistry will be much better than seen in Kaminey.
The couple play three characters based over three decades from 1910-2012 where they will be blazing on the screens and seen together way more than seen on Kaminey.
It's said to be that this film isn't like any other typical love story. Kohli says "My film is not a love story. It's the story of three different lives and proves that love is a promise forever. We have chosen one hundred years to talk about love. We didn't want it to be soppy or melodramatic."
Seems like Kohli is a pushover for love as he grew up watching Yash Chopra's film and wanted his actor and actress "holding hands, looking back and singing in the rain."
When approached Shahid tells how he relates to the 1912 Muslim character; Javed as "there was so much of me in it." Priyanka says she relates to the character; Aradhana as "she is the girl of today, so obviously I relate to her."
The movie is set to release June 22 this year so we must wait and see what Teri Meri Kahaani has in store for us!