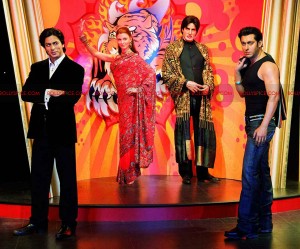 In a surprising development, megastar Salman Khan and Madhuri Dixit's wax statues will not be appearing at the World Tour of Madame Tussauds Bollywood Superstar Collection.
However, statues of four other superstars namely Shah Rukh Khan, Aishwarya Rai-Bachchan, Hrithik Roshan and Kareena Kapoor, will be traveling to Hong Kong and Bangkok among other world cities to be announced shortly, as part of the museum's plan to tap the Bollywood fan base at these places, reports Daily Mail.
At Hong Kong, the statues will be showcased in the museum's World Premiere Zone alongside the wax figure of Amitabh Bachchan. Since Big B already has a wax statue in Hong Kong, his statue at London won't be traveling to the Asian city, the report adds.
"It's just been a little over four years, when Salman's wax statue was inaugurated with much fanfare at Madame Tussauds. Moreover, it's been a favourite among fans and also known to be one of the most photographed there, at par with the ones of Shah Rukh, Hrithik and Mr Bachchan. Strange, that it'll be missing the world tour," remarked Bollywood PR guru Dale Bhagwagar.
"This will be a big disappointment for Salman's fans across nations," he added.