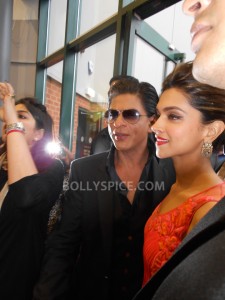 Continuing on with their promotions for Chennai Express in London, Shah Rukh Khan and Deepika Padukone attended Cineworld Feltham on Wednesday night, where they met and interacted with their die-hard fans. Thousands turned up to take part in this rare opportunity to see Shah Rukh and Deepika in person and the crowds stretched from all the way outside the popular cinema, which is known for hosting many other Bollywood events in the past. Interestingly, a number of fans came from other parts of the world in order to meet the two Bollywood superstars, which included California, Mumbai and even Chennai!
The event was hosted by BBC Asian Network's Anushka Arora, where she managed to create lots of energy and hype amongst fans. The event saw some light entertainment prior to the stars arriving, where a group of Punjabi musicians played the dhol drums to please the crowd. Yet it comes as no surprise that fans went absolutely crazy when Shah Rukh and Deepika entered the building. Both did their very best to sign autographs, pose for pictures and shake hands with their loving fans.
Subsequent to interacting with the fans, Shah Rukh and Deepika came on stage to say a few words. "Thank you very much everyone," said Shah Rukh. I would like to send my heartfelt thanks to Cineworld Feltham for hosting us tonight. And I would especially like to thank you all (the fans) for making us the stars that we are."
"Good evening everyone," said Deepika. "I'm really excited and happy that I got the opportunity to come to London. I really hope that you enjoy watching the movie, as much as we had fun making it."
Both Shah Rukh and Deepika also performed some of the popular dialogues from Chennai Express on stage. Shah Rukh said "Mere dictionary mein 'impossible' ka shabd hi nahin." Deepika responded by saying, "Achcha. Kahan se kahridiya aisi bakwaas dictionary!" They also rocked the stage by dancing to the song '1234…Get on the Dance Floor.' The crowds went absolutely mental after watching the two grooving to this very peppy number, which has become a hit both in India and overseas.
BollySpice also spoke to some of the fans at the event in order to get a sense as to why they took the time to make the trip down to Cineworld Feltham to see Shah Rukh and Deepika. Asad from Hounslow, London said the following. "I'm here to see Shah Rukh because he's my role model and idol and my dream is to be an actor like him. Also, I'm here to see Deepika because she's so beautiful and amazing." Susan, who is also from London, told us what she is looking forward to the most about Chennai Express. "Right from Om Shanti Om to this, when they (Shah Rukh and Deepika) are working together it's just perfect!" When we asked Asad and Susan what their favourite Shah Rukh and Deepika films are, both gave us only one answer each which was Om Shanti Om. No doubt, most fans will be looking forward to seeing the two in action again with Chennai Express!
It can be safely said that of all the events that have been hosted at Cineworld Feltham, this one tops the charts in terms of turnout levels, as well as when it comes to entertainment!
Chennai Express releases this Eid on 9 August 2013!
Check out the exclusive video and pictures from the event.