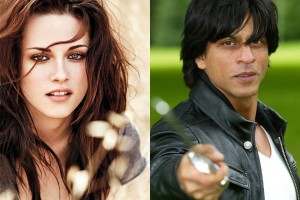 Of late Bollywood seems to be attracting a lot of attention from Hollywood, with many American stars saying they want to be part of a Bollywood movie.
The latest actress to jump on the Bollywood bandwagon is the star of the Twilight saga Kristen Stewart. The Hollywood actress told the media how she is a 'big fan of Shah Rukh Khan' and that he is the 'epitome of romance in Bollywood.'
Kristen said she would love Shah Rukh to be apart of the second part of her movie The Twilight Saga: Breaking Dawn. The actress went on to tell the media, "And not just Hollywood, but I would love to work with him in Bollywood movies too and for that I am also looking forward to learning Hindi."
The 21-year-old actress also spoke to the media about Shah Rukh 's latest movie, Ra.One saying, "I have also seen the promos of his latest movie Ra.One which are very impressive and I just loved his look in the movie. I'll definitely watch the movie also. He is truly an inspiration to me."
Ra.One is out now in cinemas. Kareena Kapoor and Arjun Rampal star alongside Shah Rukh Khan in the science fiction superhero movie.