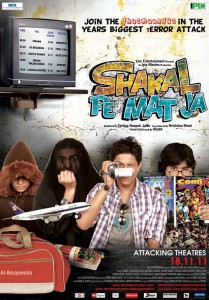 The wait is over! As the team of Shakal Pe Mat Ja launched the music of the movie today on Radio One and Radio city.
The interview for the music launch is on the tomorrow (9thNovember)  in Mumbai.
The music of the movie is composed by Salim-Suleiman and the guest composers are Nitin Kumar Gupta and Honey Singh. The title track of the movie features Honey Singh. The song is a popular hit amongst the youngistaanis!
Songs from the movie namely 'Mil Gaya' and 'Meherbaan', have been sung by musical sensations; Salim Merchant, Shraddha Pandit and Mohit Chauhan. Suraj Jagan from the 3 idiots fame has given his voice for the film and the critically acclaimed music composer, Amar Mohile, has given the background score.
Radio stations in Mumbai, Delhi, Kolkata,and Bangalore will air the music of the movie today.
The movie is written and directed by Shubh Mukherjee who even stars in the movie with Aamna Sharif. The movie is produced by IPIX movies, Linc Entertainment, Sarita Jalan and Hrishita Bhatt. The movie releases on 18th November, 2011.
Watch the title track of Shakal Pe Mat Ja on: http://www.youtube.com/ipixmovies