2013, the extra special year marking the centenary of Hindi Cinema is almost coming at an end.
To celebrate, BollySpice briefly explores the theatrical roots of Bollywood, expanding on the contribution of William Shakespeare, the famous playwright who has continuously intrigued the Indian film industry since the beginning of the Hindi film industry.
We explore selected Bollywood "Romeo and Juliet" interpretations and how they disturbingly reflect South Asian cultural issues related to "love".
Theatrical Beginnings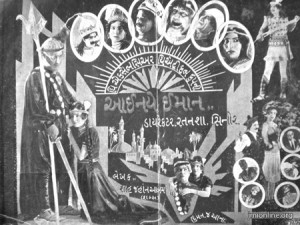 When "sound" arrived into the world of Hindi cinema in 1931, it threatened the existence of the Parsi Theatre – a popular culture of performing arts that formed the foundation for what we now call "Bollywood".
Not only had theatre formed an important foundation, but continues to be reflected through Bollywood – through more ways than one.
Popular Parsi theatrical productions were made into Hindi films. Famous theatre playwrights, as well as singing-dancing theatre performers joined the film industry; dramatical, theatrical Urdu poetry was adopted, colouring the emotions of the Hindi film script.
And marking Bollywood as unique, its "song and dance" element emerged from theatre.
However, there is also another aspect of theatre that has been and still is becoming increasingly popular in Bollywood:
William Shakespeare.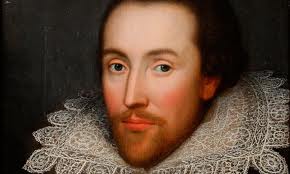 Born in 16th century England, Shakespeare's canon of work includes 38 plays, 154 sonnets and two long narrative poets. His plays in particular have been translated into every major language – including the melodramatic, beautiful language of Bollywood.
Shakespeare in Bollywood
"The Merchant of Venice"
Telling the tale of money, love and self-interest, "The Merchant of Venice" begins as the journey of Bassanio who seeks the help of his merchant friend Antonio to court Portia, a wealthy heiress. Through a complex plot of disguises, the lovers are eventually united.
As early as the 1920's, audiences saw the first Shakespearean adaptation on the Hindi film screen through Savkari Pash (Directed by Baburao Painter; 1925) based on "The Merchant of Venice". Another adaptation was through Zaalim Saudagar (Dir. J.J Madan; 1941).
"Hamlet"
The famous "To be or not to be" Shakespearean play "Hamlet" portrayed prince Hamlet, a troubled young man who discovers that his father was murdered by his uncle. He then sets out to avenge his father's death. Although he succeeds, his ambition is met with tragic consequences. 
"Hamlet" was adapted through "Khoon-E-Nahak" (Dir. K.B Athavale; 1928) and "Khoon Ka Khoon" (Dir. Sohrab Modi; 1935).
Reportedly, Bollywood will soon be seeing not one but two Hamlet adaptations: by Vishal Bhardwaj and My Brother… Nikhil director Onir.
Vishal Bhardwaj's "Hamlet" adaptation will have Shahid Kapoor playing the role of tragic prince Hamlet. Titled "Veda", Onir's adaptation will be led by Kai Po Che's Amit Sadh as Prince Hamlet.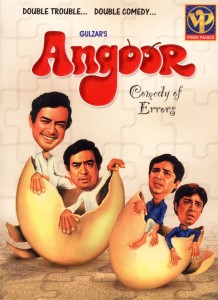 "The Comedy of Errors"
Shakespeare portrays much confusion through two pairs of identical twins and inevitable mistaken identities. Condemned to death for violating a ban against travel between two rival cities, Egeon melts the heart of the duke through telling him the purpose of his visit. Egeon was separated from his wife and son in a ship wreck 25 years ago. The duke then grants him a day to raise the thousand mark ransom necessary to save his life. What follows, is mayhem.
"The Comedy of Errors" was adapted through Do Dooni Chaar (Dir. Debu Sen's; 1968) and Angoor (Dir. Gulzar; 1982).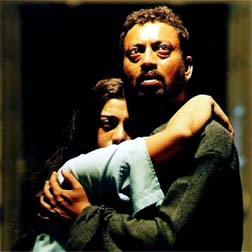 Macbeth
A chilling tale of a trio of witches who prophesise that Macbeth will be made King of Scotland, eventually drive Macbeth to murder, paranoia and a guilty conscience haunted by those whom he has killed. Macbeth is eventually overthrown in a violent battle through which law and order are restored. 
Vishal Bhardwaj's first Shakespearean adaptation was indeed "Macbeth" in the form of Maqbool in 2003 which included a star cast of Tabu, Irrfan Khan and Om Puri.
Othello
A love tragedy that is brought on by jealousy and misunderstandings, this love story was important in that it reflected love overcoming racial boundaries. However, the love story is doomed as a ploy is set where the protagonist "Othello" will murder his lover with his own hands.
Also directed by Bhardwaj, "Othello" was reflected through Omkara (2006) with a star cast including Bipasha Basu, Kareena Kapoor, Konkona Sen Sharma, Ajay Devgn, Vivek Oberoi and Saif Ali Khan. Omkara was critically acclaimed, winning the IIFA "Best Adaptation" award amongst others.
We now move onto one of the most well known tragic love stories of all time: Shakespeare's "Romeo and Juliet".
Shakespeare's doomed lovers in Bollywood:
"Eyes, look your last! 
Arms, take your last embrace! 
And, lips, oh you the doors of breath,
Seal with a righteous kiss a dateless bargain
To engrossing death!"
– Shakespeare (Romeo and Juliet)
"Romeo and Juliet" was written by Shakespeare in the 16th Century.
One of the most well-known love stories, the play tells the heart-breaking tale of two lovers who fall in love with the wrong person from the side of the "enemy". Romeo and Juliet's love story ends with their tragic deaths.
However, through an emphasis on the contrast between their pure love and the destructive hate of their warring families, the Montagues and the Capulets, their love is one that surpasses life itself.
"Love" is a bold subject that has always lacked rules and has always attracted controversy- especially within the strict structure of South Asian society.
Perhaps that is one of the reasons why Romeo and Juliet has continuously remained a popular Bollywood adaptation.
As was stated in "Mughal-E-Azam", the iconic period Bollywood film of the 1960's", "Jab Pyar Kiya Tau Darna Kya?" (What's there to fear once you've fallen in love?")
Love- especially a love that meets obstacles and challenges society, has been a favourite subject Bollywood has pondered over.
So, how has Romeo and Juliet's fierce, undying love been adapted on to the Bollywood screen?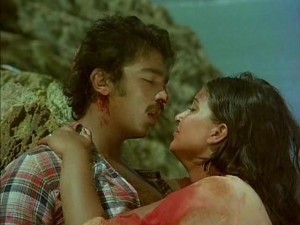 An early adaptation took place in the 1980's through Ek Duuje Ke Liye (Dir. K Balachander; 1981). Starring Kamal Hasan and Rati Agnihotri, this adaptation emphasised the power of love through surpassing language and cultural barriers.
When Vasudev (Kamal Hasan) a Tamil man and Sapna (Rati Agnihotri) a north Indian fall in love, their families are set against their love – their argument being their "separate" cultures.
The two are separated but are finally united in death through committing suicide together.
The film also emphasised the value of female honour, where Sapna is raped at a temple and is left to die – perhaps emphasising the superficiality of "culture" and "tradition" in comparison to their pure love that surpassed all boundaries.
Ek Duuje Ke Liye was critically acclaimed and received three Filmfare Awards and a National Film Award.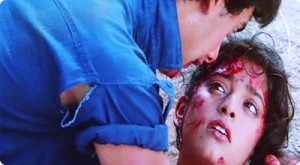 The next interpretation was through Qayamat Se Qayamat Tak (Dir. Mansoor Khan; 1988) – the first film with Bollywood stars Aamir Khan and Juhi Chawla in lead roles.
Shakespeare's warring families, the Montague's and the Capulet's, are reflected as Thakur Jaswant Singh and Thakur Raghuveer Singh – the enemy Rajput's of Qayamat Se Qayamat Tak.
When Raj (Aamir Khan) and Rashmi (Juhi Chawla) fall in love, they defy their family hatred and elope with one another. However, they are tracked down and attacked. Rashmi is shot dead. Staying true to Shakespeare's version, Raj kills himself. The lover's corpses are found together, emphasising their togetherness in death.
The 1980's is known for Bollywood to have produced films with the family as the nucleus. Fortunately, not all lovers met a doomed death.
Maine Pyar Kiya (Dir. Sooraj R. Barjatya) also portrayed two lovers who had to "fight" their families to be with their love. However, Maine Pyar Kiya placed an emphasis on love holding more power than the rich-poor divide. The film places emphasis on family approval for the lover's union and therefore on maintaining Indian tradition.
Nonetheless, the message clearly portrayed prioritising love and making an individualistic choice on whom to love as well as pursuing it.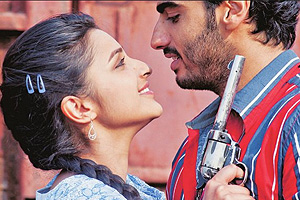 Ishaqzaade (Dir. Habib Faisal; 2012) portrayed the doomed love of Zoya (Parineeti Chopra) and Parma (Arjun Kapoor). The lovers obstacles are not only are created by their religion, being Muslim and Hindu, but their families are generational arch enemies. Initially, Parma tricks Zoya into believing he loves her and slyly marries her. However, he later genuinely falls in love with Zoya. The two are constantly on the run from their vengeful families until they kill each other.
The message of the film reflects the reality of thousands of South Asian "Romeos and Juliets" who sacrifice their lives because they loved outside their religion or caste.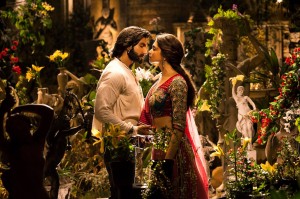 2013 witnessed two films revolving on the theme of "Romeo and Juliet": Manish Tiwari's Issaq and Sanjay Leela Bhansali's Goliyon Ki Raasleela Ram-Leela.
Although the Banaras set Issaq did not manage to work its magic on the Bollywood audience, Ram Leela is currently mesmerising worldwide.
Why so Tragic?
What is it about "Romeo and Juliet's" well known tragic love story that still has the potential to hone audiences despite familiarity with the plot?
Is it the certain oppressive aspects of South Asian Culture that make the story a perfect parallel to reflect the reality of many South Asian lovers?
Is it perhaps, the comfort of staying within a comfort zone of a formulaic familiarity?
In all honesty the message needs to change.
Disturbingly, statistics from the "National Crime Records Bureau" revealed that "love affairs" and "family problems" were the main reasons for suicides in India (2012).
True, these tragic realities are ingrained in some of the oppressive "traditions" of South Asian culture, yet it is important that Bollywood should stop reflecting a somewhat romanticised notion of sacrificing life for love and adapt a happier ending.
Through reflecting tragic endings, Bollywood can be argued to "normalise" a doomed death if one steps out of family approval. Tragically, the failed destiny is re-asserted for those who do dare to love without boundaries.
It is time to stop the cyclic tragedy both on screen and off screen.