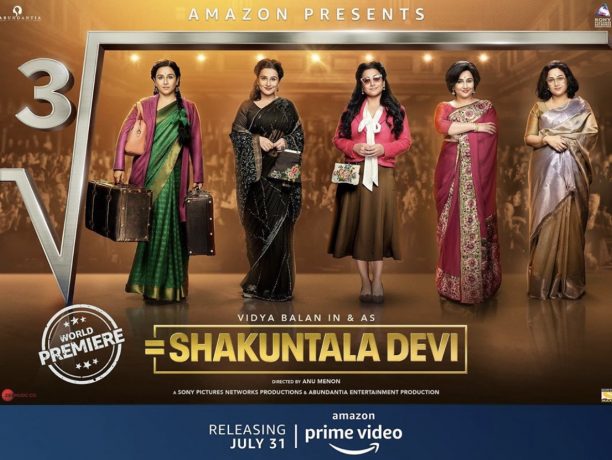 Shakuntala Devi (Amazon Prime Video)
Starring Vidya Balan, Jisshu Sengupta, Shakuntala's husband, Sanya Malhotra, Amit Sadh
Directed by Anu Menon
The best part of getting Vidya Balan to play the maths genius Shakuntala Devi is that that they both, the maths genius and the actresss, make their job look so easy. While Shakuntala Devi rattles off gigantic numbers (caterpillaring on screen a la Hidden Figures) to an open-mouthed audience all across the world, Vidya Balan's performance will in all likelihood would have the same affect on an audience as the amazing story of the "human computer".
Shakuntala Devi comes to us unadulterated, unapologetic and refreshingly free of cloying sentimentality. Well, almost. There are sequences towards the end of the nifty narrative where mother Vidya Balan and daughter Sania Malhotra (she, poor soul, struggling to match up to the imperious histrionics of the amazing Ms Balan) where director Annu Menon could have pulled out all tops.
Luckily, the mood in this buoyant bio-pic is forever sunny, with a few rainclouds making intermittent appearances. What is rare in our desi bio-pics is honesty. The Dhoni one, for instance, did away with Dhoni's brother. And the Sanjay Dutt one simply blocked out Dutt's daughter. Shakuntala Devi(SD) tells it like it was, Straight , blunt and unvarnished. Even the issue of SD's husband (played with heartwarming sincerity by Jisshu Sengupta) alleged homosexuality is tackled headlong, though I did feel that the narrative was purposely opting for ambivalence on the issue to burp all its age-groups of viewers into blissful submission.
Vidya's Shakuntala raging against her daughter Anupama's bourgeois ambitions like Ingrid Bergman in Ingmar Bergman's Autumn Sonata (though sadly, Sania Malhotra is no Liv Ullman) succeeds in keeping the drama subdued even in the worst-case scenario. And what could be worse than mother and daughter facing each other across a table of opposing lawyers? Amit Sadh playing Anupama's husband is a reliable buffer between the two warring women. Sadh tries not to be swept away in his onscreen mother-in-law's swamping ebullience.
Refining the messy relationship between an overpowering mother and a non-submissive daughter, Vidya Balan stares at her screen-daughter across the table with a heart-melting blend of compassion and incomprehension. Here Balan becomes Everymother, so universally benign as to remind us that she is indeed the true inheritor of Shabana Azmi's crown.
The early sequences showing a young pigtailed Shakuntala making her way through London's academic snobbery is shot in a sunlit spaces, as though the film wants us to breathe the young mathematician's purified air. But Keiko Nakahara's cinematography is not really interested in geographical landscapes. Its searches for answers within. Later,the mood merges into a somber light effortlessly.
But the guiding mood is stubbornly light-headed. In that sequence where Sania Malhotra's Anupama asks her parents to behave "normally" in front of her future husband's parents Balan and Jisshu Sengupta demonstrate a wickedly winsome sense of humour.
For all its dramatic possibilities Shakuntala Devi is a sunny positive film about characters who won't celebrated the dark side just because they are not 'normal', who will fight back hard when life seems unfair but won't curse the Gods even when their world is falling apart. This is one of the best bio-pics I've seen in Indian cinema. Truthful and toothsome, sincere and scrumptious , intense and ebullient, Shakuntala Devi's mathematical genius is matched by the director's vision of a brilliance that eclipses everyone else in the room without apology or guilt.
I wouldn't say Vidya lives Shakuntala's life king sized. Why be a king when you can be queen?