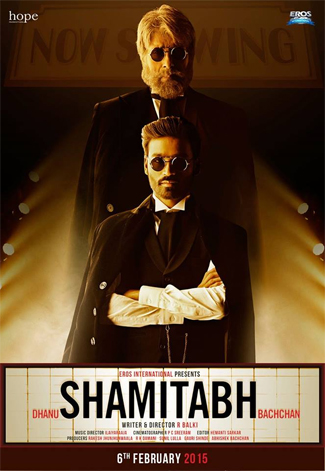 Shamitabh is an upcoming comedy/drama starring Amitabh Bachchan and Dhanush in the leading roles. Directed by R. Balki, the film also marks the debut of Kamal Hassan's daughter, Akshara Hassan, and is scheduled to release in cinemas on 6 February 2015. The music has been composed by legendary South Indian music director Ilaiyaraaja, who is largely known for his work in Tamil films. The lyrics have been mostly penned by Swanand Kirkire, with Kausar Munir contributing to the song 'Sha Sha Mi Mi.' So does the music to Shamitabh live up to our expectations? Read on to uncover our verdict!
To kick start the album we have Ishq-E-Phillum by Suraj Jagan. I like how the song starts off with some wonderful playing of the piano that gives it an intense feel. However, soon after the song just falls flat and I found it to be an overall bore. This is largely because it is quite messy in places and does not help to create a catch. Sorry to say but this one was just disappointing to listen to.
Next is Sha Sha Mi Mi, which has been sung by Caralisa Monteiro. You can hear a range of instruments in this one which include the trumpet, piano, bass, as well as techno elements. Although it's not perfect, it still manages to creep in to your mind and therefore has some positive appeal to it. I also enjoyed hearing Caralisa's voice which is smooth and flows well throughout the song. Hence, I think this one is worth checking out as it's one of the highlights of the album.
Following this, we have Piddly sung by the one and only Mr. Amitabh Bachchan. Though the legendary actor has sung many iconic songs in the past, unfortunately this song just does not live up to expectations. Though there is some nice violin sounds in the middle of the song, it is bland and weak overall in terms of composition and lacking in a lot of depth.
Next is Sannata by Shruti Hassan. The song has some thumping techno themes to it which may be of interest to some listeners. However, I did not manage to connect with this one and found it to be boring and lacking in musical quality. Though Shruti's vocals are commendable, she was sadly given a song which did not do justice to her talented voice.
Thappad is next and has been sung by Suraj Jagan and Earl D'Souza. This album just goes from one disaster song to another and Thappad is no different. There's not much to say about this one other than the fact that it is dreary and mind-numbing to listen to. Sadly it just does not have the ingredients of a great tune!
Finally we have Lifebuoy, with Suraj Jagan making another appearance. This has a lot of techno and bass incorporated in to the composition and sounds like something you would hear in a nightclub. However, it is extremely dull to listen to and does not have any flavour to it whatsoever.
To sum up, I was very disappointed with the soundtrack to Shamitabh. The film has a lot of hype to it, yet the album was just incredibly boring and lacking in the sounds of a great Bollywood album. Unfortunately, this is an album which will soon be forgotten about once the promotions are over!