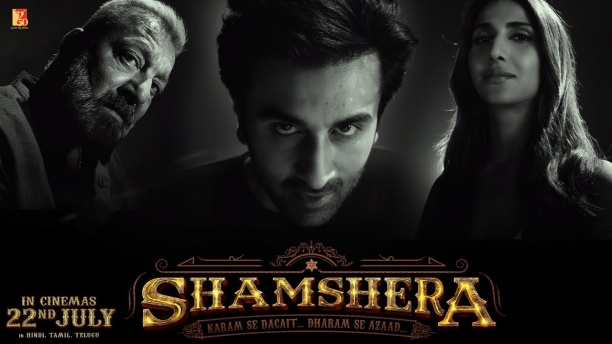 Get ready because July 22nd we will finally see Karan Malhotra's Shamshera on the big screen! The highly anticipated action adventure stars Ranbir Kapoor, Sanjay Dutt and Vaani Kapoor.
Set in the heartland of India, Shamshera promises to be a high-octane, larger-than-life entertainer with jaw-dropping action sequences. Though not much is known about the story, what we do know is that Sanjay Dutt will portray the role of the ruthless and merciless villain. Fighting opposite him is Ranbir Kapoor, who transforms himself into this new avatar once again.
Before shooting, Ranbir said, "Shamshera is exactly the film I was looking for. While growing up watching Hindi commercial cinema, I had an image of what a film hero should be doing. Shamshera allows me to do everything that I had imagined, and it's a very exciting project for me. Karan is going to take me completely out of my comfort zone, and I'm looking forward to this challenge."
Sanjay Dutt says, "My father and Yash uncle were very close friends, and now that I'm doing my first YRF film, it is an extremely emotional moment for me. When I heard Karan's idea to pit Ranbir against me, I thought it was just brilliant. I'm looking forward to shooting this incredibly exciting film, my second with the hugely talented Karan Malhotra."
About Vaani Kapoor's character, director Karan Malhotra revealed earlier, "Vaani plays Ranbir's love interest in the film and is a very important collaborator in his character's journey. Her character graph is interlinked to the plot of the film making her a crucial catalyst in our hero's rebellious mission."
Check out this new video!
We cannot wait to see these Sanjay and Ranbir battle it out in this epic tale! As the tag line says "A Legend will Rise" Watch this space for more!