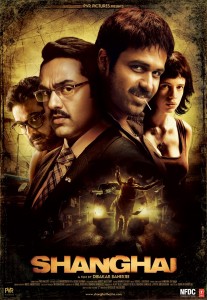 Coming up soon much to the delight of Hindi cinema fans is Dibarkar Banerjee's Shanghai starring Abhay Deol and Emraan Hashmi as well as Kalki Koechlin and Prosenjit Chatterjee. All along the way leading up to the release on June 8th, we have been giving you some cool facts and insider looks. We now have a new tidbit to reveal, which is that one of the actors dies over and over in the film.
In fact, Bengali superstar Prosenjit Chatterjee who plays a political leader in Dibakar Banerjee's Shanghai, dies almost a dozen deaths, literally. "In the film, I get killed 11 times- every time in a different mode, with a different pattern, and at a different place", says Prosenjit, who was last seen in Bollywood over two decades ago in Veerta (1991).
He further explains, "Actually, the film shows 11 people who have seen me getting murdered and what they explain to the police are independent incidences. So I had to shoot the death sequences according to each person's version. It was a fresh experience, but quite horrific."
We will find out who actually did murder him when the film hits theaters on June 8th! Stay tuned we have some more cool inside scoop as well as an exclusive interview with Director Dibarkar Banerjee that you don't want to miss!