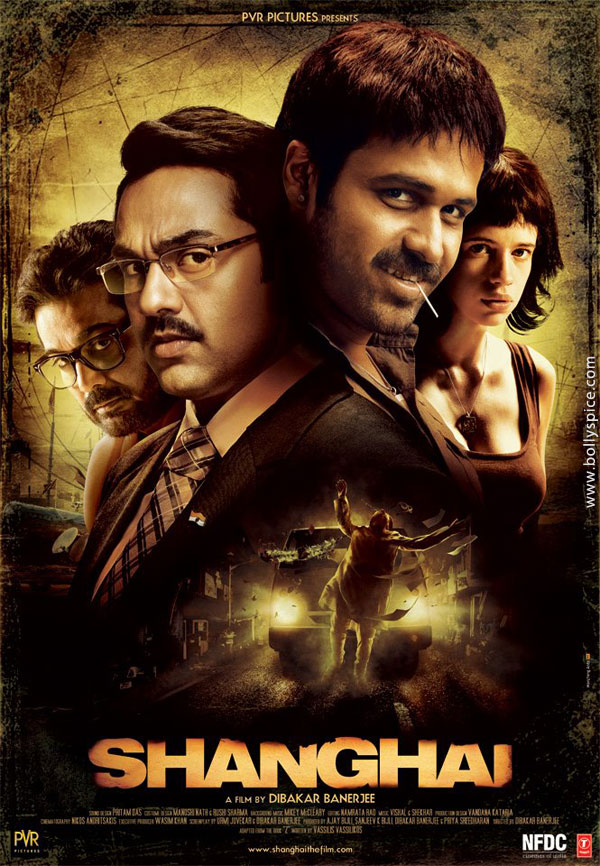 Dibakar Banerjee is back with the political thriller Shanghai starring Abhay Deol and Emraan Hashmi. The director has adapted Vassilis Vassiliko's novel 'Z' to a modern Indian theme, subject, world and story. Both 'Z' and Shanghai are about the real-life assassination of a dynamic politician. According to the director, "Shanghai is a political thriller that looks at how politics – the tools of power- is remote controlled by the governing class over the poor, uneducated masses in India". In charge of adding the musical overtones to the film are the excellent composing duo Vishal Dadlani and Shekhar Ravjiani aka Vishal-Shekhar. When I sat down to first listen to the music on the OST, I had no idea what to expect. What I found was a surprising mix of driving beats, lovely notes, cool grooves and of course fabulous vocals. Let's take a look at each track.
Bharat Mata Ki Jai starts out with a full on Indian beat with thumping drums and it never stops. The song is enhanced by the staccato lyrics sung energetically by Kirti Sagathia, Vishal Dadlani and Mandar. I loved the mixture of the grunge, the sharp and the smooth vocals. What is interesting is that in parts there is also this cool slower wheeling flow that I really liked. Then there is the harmony of the three singers on the slower 'ah ho hooo', which is brilliant. This beat is great, but it is the vocals that make this song so good! The tempo, vocals and instrumentations changes enough throughout that you never get tired of it. Yes, I was chair dancing with shoulders and feet going while listening to it. Definitely one to get up and go crazy dancing and Emraan Hashmi certainly goes wild in the video of the song. There is a Remix too, but since it is basically the same song just sped up and a bit of the layers taken out it is not really worth a mention or listen. Stick to the original.
To be honest I wasn't sure what to make of this when I first heard the beginning of Imported Kamariya, the sounds were just nothing I had heard before. However, then Richa Sharma's fab vocals came in and I said ahhhh, here comes the item number. The music is nice, but it is Richa's perfect delivery full of spicy inflection that is the best part of the song. I don't think it really needed the men's chorus section, it felt like it lost the flavour there and the English lyrics (this is a pet peeve of mine) certainly did not need to be there. I think this one works best with the video and watching Scarlett Wilson's moves, not one you would want to just listen to over and over again.
Duaa has one of the most beautiful beginnings to a song I have heard in a long time. Such a lovely mix of western flavored tones with the Indian layers added in…pure gorgeousness. One of my favorite singers Nandini Srikar comes in and the song gets even better. You feel every note she sings and that is what is so special about her voice, the emotion and the tone is just pitch perfect. Then we have Arijit Singh, who is marvelous and matches her in feeling and tone. You feel every note with him as well. There is also this haunting cry in the background that really adds to the feeling and mood. This is just one exquisite song and one of my favorites that Vishal and Shekhar have ever composed. I could listen to this over and over and over and I did. This one has been added on to 'my all time favorite song' lists. The only thing bad was at the end they added this weird electronic tone. Her vocals were more than enough, instead of adding coolness it took some of the beauty away and that is never a good thing. But overall the song is just the definition of a great song!
I love when Shekhar Ravjiani sings. I always love his songs. In fact, I still have 'Bin Tere' from I Hate Luv Storys as my ringtone. However, I now may have to change it to Khudaaya. His voice has such a soft, pure quality to it with an underlying strength. Can I just sigh at him because honestly he needs to sing more! The beginning of this song is just gorgeous. The music then changes up to a faster mixture of beats and vocals by Raja Hasan and for me it was a bit jarring. I was happy when it went just to Shekhar singing with the acoustic guitars and lighter background supporting notes. There is a driving beat to the background music in many parts that is just fabulous. Vishal and Shekhar are really masters at this type of song. So much music and feeling that it surrounds you. Immediately added this one both to my 'all time favorite song' list and my 'Shekhar playlist' (yes, I really do have one of those). There is a Khudaaya 'why on earth did they do this' Remix. It is very 70s-80s electro, which had its own cool sound, but since I loved the original so much this felt like it was ruining it. Shekhar still sounds great but the music does not match to his vocals or the feel the song has in the original. The music overtook it and him. Skip it, I actually stopped it playing.


Morcha is another song with a strong back beat and contains very strong vocals by Raja Hasan and Vishal Dadlani. This has the feeling of an anthem with the added Desi beat added in. It has this swaying flow to the 'Morcha' lyric in parts that just rocks and makes the song. The rest is good, but it is that 'Morcha' stanza that really is the best part of the song. Another one to get you revved up. It has the feel as if in the scene in the film they are marching on to something maybe… probably not right given the story of the film, but it will be interesting to see what accompanies this great track.
The last track is Mantra Vishnu Sahasranamam (The Thousands name of Lord Vishnu), which is a mantra sung by Srivatsa Krishna. No need to give an opinion on this one just listen.
Vishal and Shekhar are certainly going through a great period as composers and that really shows on the Shanghai album. The album is a mix of what you would expect from a film like Shanghai and then there are surprises as well. Except for 'Imported Kamariya' and the awful 'Khudaaya remix', the songs on the OST show them at the height of their powers. Now excuse me I must go play 'Duaa' and 'Khudaaya' again, you should too!
Most of the album gets a 3-3.5 but I give an extra half star each just for 'Duaa' and 'Khudaaya'!
Shanghai is out on June 8th.