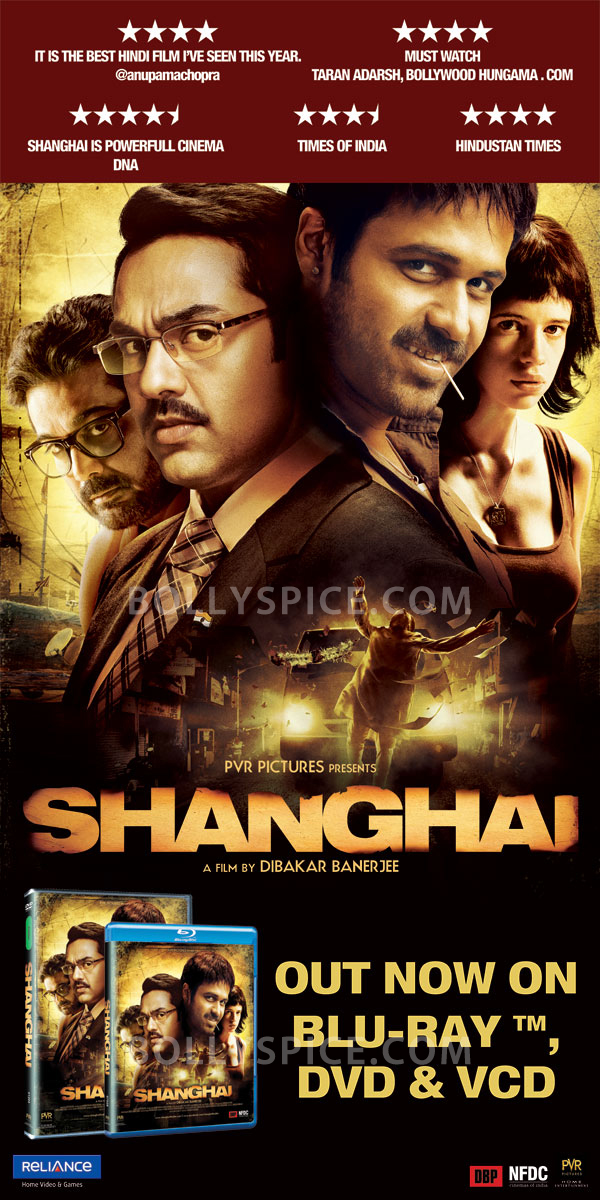 Reliance Home Video and Games & PVR Home Entertainment is all set to release the critically acclaimed film Shanghai on home video. The film has been directed by National award winner director Dibakar Banerjee and stars Emraan Hashmi, Abhay Deol & Kalki Koechlin.
The movie releases today on Blu-ray™, DVD & VCD in India.
"Shanghai is a political thriller that looks at how politics – the tools of power- is remote controlled by the governing class over the poor, uneducated masses in India. This is the background to the Indian adaptation of the story loosely adapted from the book Z, written in 1966 to reveal the facts behind the assassination of a prominent Greek Liberal MP in 1963. It is the story of State oppression and collusion in crime – a theme I think very relevant to contemporary India. The protagonists of Shanghai, instead of being all good, or all bad are a mix of courage and cowardice, ego and desire, ambition and conscience – normal Indians, trying to get by with the bewildering challenges of modern India." – Dibakar Banerjee
Critics Comments & Ratings
Must Watch – Taran Adarsh, Bollywood Hungama.Com
Shanghai is a powerful cinema – DNA
* * * * ½ – Mumbai Mirror, DNA, Jagran
* * * * – Hindustan Times, Navbharat Times, India Today, Film Fare, Zee News, NDTV
Shanghai Synopsis
A small town somewhere in India is poised to become the next Shanghai. Billions of dollars are being poured into an upcoming International Business Park.
On the eve of its launch a drunk truck driver mows down a prominent social activist. A lone girl believes it to be a murder, supported by a porn film maker who claims to have the proof that will bring the government down.
A high ranking bureaucrat is brought in to investigate the accident.
Shanghai will be available on Blu-ray™ (Rs 799), DVD (Rs 299) & VCD (Rs 115). All formats will be available across all major home entertainment stores in India.
The Blu-ray contains the following special features:
Making of the movie
Shanghai Making Series – Khudaya Making, Workshops, The World of Shanghai, The Shooting of Shanghai, Dibakar in Action 1, Dibakar in Action 2
Theatrical Trailer
The DVD includes the following special features: