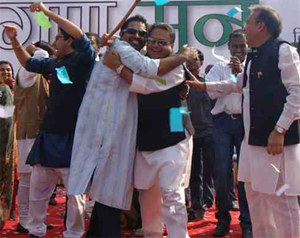 Today, after numerous spectacularly memorable songs as a superstar singer, and a multitude of super hit film music scores as part of the top music director troika Shankar-Ehsaan-Loy, Shankar Mahadevan is not only going to greater professional and artistic strengths, but is also giving back to society. Through his very own music academy, and through participating in socially uniting, relevant and powerful initiatives like participating in — and leading — close to one 100,000 patriotic Aurangabadkars on Republic Day-eve  to set up a Guinness World Record for the maximum number of people singing the National Anthem in unison.  Shankar, as he is fondly called by film fans as though they have known him all their lives, is constantly breaking new ground.
 
Soon after he appeared at the Aurangabad event,  we caught up with Shankar Mahadevan, who spoke about 'the most beautiful and emotional piece of music' he has grown up to, his musicality, his favourite singers, his past and new projects, his music academy, and participating in Lokmat Media's unforgettable Aurangabad world record initiative.
 
What was the feeling like, singing with and inspiring such a massive crowd for the world record for India?
 It's unbelievable! Even in cricket matches one hasn't seen such massive audiences. There must have been  around a lakh of people in the stadium. It was a stadium with a 45,000 seating capacity, and it was jam-packed with people standing on every square-foot of the ground, in the stands… and you know what? Even though I came pretty early and — as I thought very much in time for the 8 am start — I was delayed by more than an hour, just trying to get to the stadium from the airport! The roads were packed with people, students, families, youngsters, elderly people, walking, cycling, on two-wheelers, in overcrowded public transport buses — it was awesome! I saw a really strong physical manifestation of patriotism today, and I am really glad I was there to be part of the historic day.
 
What was it like, singing for a non-commercial event in the service of the Nation, in front of a lakh of people?
As I just said, it was unbelievable! And there must have been at least 40-50 thousand people outside the stadium, because the gates were locked as there was no space inside. Lokmat has such a strong connect with the people and the city, and the local Radio Mirchi station was going full on to, urging people to be part of the historic day, airing special jingles, RJs doing a great job of promoting the event. I heard a lot of the radio while I was in the car, just waiting to reach the stadium! But it was truly worth it.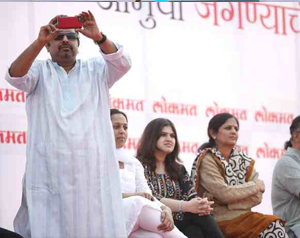 It was great to sing the National Anthem with other entertainers and celebrities — there was Roop Kumar Rathod with Sonali, Mahatma Gandhi's grandson Tushar Gandhi,  Prashant Damle, Vaishali Samant, Swapnil Bandodkar, and many other singers too. Amazing experience! I still have the goose bumps just remembering it. It was a never-before experience, a really, really massive crowd! And to think that I might have ended up missing it!
 
How's that?
Oh, I had an event the same day at Nasik too, but I really didn't want to miss being in Aurangabad for the National Anthem, so I flew in on a chartered flight. Just had to be there!
 
You helped lead a hundred thousand people in Aurangabad in singing the National Anthem on 25th Jan. What does the National Anthem mean to you?
(Is overcome with emotion, takes a deep breath) Our National Anthem is the most beautiful and emotional piece of music I have grown up to. It is the greatest song that rules the Indian psyche! Gurudev Rabindranath Tagore's Jana Gana Mana is an amazing poem, and so brilliantly composed! It is very difficult for any composition to be both, emotionally stirring and rousing, and to also induce peace. It defines our unity, it evokes fierce patriotism. Every time I hear Jana Gana Mana, my mind, body and soul are enraptured! Every Indian feels the same way!  You know what? I am proud to have been at the Lokmat event in Aurangabad. And every time I go abroad, I am always fiercely proud to represent my country, sing for my country.
 
Wow! Now, can you tell us about your forthcoming films?
Our forthcoming films are Bhag Milkha  Bhag, directed by Rakesh Mehra, and in which Farhan Akhtar is playing the young Milkha Singh. Then there's Kamal Sir's (Kamal Hassan's) Vishwaroopam, Nikhil Advani's Meherunisa and Abhishek Kapoor's Rock On-2.
 
Your music for Don 2 was a great example of a well-integrated score that actually enhances and takes the story forward…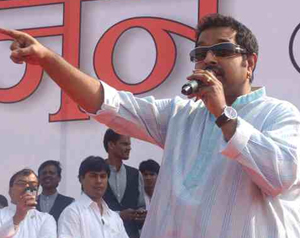 I give a lot of credit for that to Farhan, who everyone knows is both, technically and creatively, a brilliant and very focussed director,  excellent in his craft.  I think he picks a storyline and defines the creative concept, the total personality, really brilliantly, and then every technical aspect of executing the film — the musical score, the background, the videography and the film's overall styling — works really seamlessly to turn the film into a truly 'pure breed'  being! And Don 2 turned out to be a super-slick, really world class film in look, feel and grip. And of course, what a cast!
 
That's the reason the music of the film was a slick and stylish album overall. And very different from the aural feel of your compositions for Farhan Akhtar's early super hit Dil Chahta Hai…
Yes, they were different concepts and creative entities, remember? Again, Farhan really know what he wants. When Ehsaan, Loy and I were compositing the songs for Dil Chahta Hai, we had no interference from Farhan, but he was with us every step of the way, sharing comments and ever detailing what he wanted for each song. He loved the different sound to our music, which, let me tell you, some music company heads thought was very jingles-like! And they said that in a, well, disparaging sort of way. But we were convinced, and happily, Farhan too liked the new sound.
 
Ultimately, of course, a good song or composition is a mix first of tune, and then of the way you express that melody, how you dress it up, how you, to use an industry term, arrange it. So yes, like you said, the score for Don 2 was more today's hip, stylish club music, and I am told it complemented the uber cool panache of Shah Rukh Khan's character too.
 
We also hear you are working on another album of your own. Tell us a little about it.
All I can say is, it is work in progress. Let me not spoil the fun by giving out the personality and style we are using for the tracks. You should listen to them when the album arrives. But yes, the compositions, their expression and treatment, the style we are using, is definitely a coming together of all the influences and experiences we have had over the years as singers and composers, so hopefully, it will be as different as 'Koi Kahe' as a song celebrating friendship was different from the great 'Yeh Dosti'. Hopefully, this album will be as memorable as my first, Breathless was. Hopefully!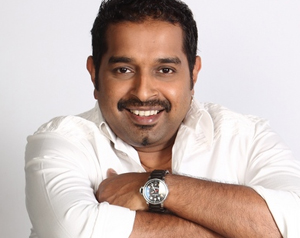 You yourself are an excellent singer, of course, but apart from you, who are the male and female singers you like for singing your compositions?
There are  many good singers, and we have worked with most of them. Sukhwinder Singh. Shaan too is a very good playback voice. I am also particularly fond of Sonu Nigam – he has sung some of our best compositions. He emotes the songs beautifully.
 
You get Sonu's best work because you inspire the singer in him to sort of restrain the actor in him so he emotes your compositions in a controlled sort of way… is that a correct assessment?
Actually, I would put it this way: Sonu is an excellent singer and actor too, and he also has impeccable musical sense and instinct. He's also a very good improviser because he is so natural. So all that, in my view, adds up to a phenomenal musicality that he has. That's what helps Sonu immediately assimilate our brief about a song and its personality, and render it so flawlessly, so beautifully! And if we have multiple takes, more often than not, there's an argument amongst ourselves on which take to keep — they're all so good.
 
And what about the female singers?
Amongst the females,  Shreya Ghoshal… Sunidhi.  And for today's songs, Alyssa too. Mahalakshmi Iyer too is a big favourite — she's sung so many lovely songs for us — that lilting duet 'Chupke Se Chupke Se' with Sonu for Bunty Aur Babli, 'Aaj Ki Raat' from Don, 'Laung Da Lashkara' for Patiala House… in fact, she has been in nearly every one of our films. So there is great talent all around, and we enjoy working with them all.
 
Your sons too seem to have inherited your formidable talent in and sense of music. How does that make you feel?
I feel great about it. You know, talent is fine; it is inborn, and if you are blessed with natural musical aptitude, the talent can be honed by a combination of practice, effort, education and the resultant experience. But what is really special, what leaves me absolutely awed, and pleasantly shocked, actually, is the musicality they have. The sense of music, the immensely mature appreciation of it, being sensitive to all its fine nuances… this  musicality is something that came to us after  many years of work. But in my sons' case, even while they were in their early teens, they seem to have been blessed with a deep and rich musicality that you wouldn't believe would exist in such youngsters if you didn't experience it yourself. Now this has to be God's own way… it's how DNA works.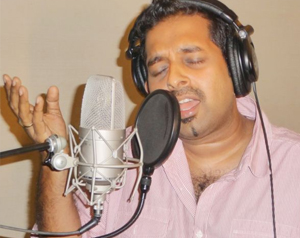 Your son Siddharth is only 18, and with your 21-year-old nephew Soumil, has turned music director, and as Soumil-Siddharth, they have composed the music for Marathi film 'Swapna Tujhe Ni Majhe'.  And you sang  a song for their film too…
 Yes. They invited me as a professional playback singer, gave me the lyrics, explained the tune, its personality and context, and just made me sing it. They took no creative inputs from me to help them make the tune — it was entirely theirs. They had assembled their own group of musicians, arranged the song themselves, went through the professional studio routine with all the confidence that sound knowledge and the musicality that I spoke of, can bring. I  was really proud that day.  They also got singers like Shreya Ghoshal and Rahul Vaidya to sing for the same film.  If I'm not mistaken, they must be the youngest music director duo for films in the country. Ehsaan (Noorani) and Loy (Mendonsa) too were there to bless them. It was wonderful.
 
How much time does your online music academy take?
A lot, but I believe that if something interests you and is good to do, then surely you must do it really well. I just make time for the things that are close to my heart, and believe me, anything to do with music is important to me. I set up the Shankar Mahadevan Academy because there are thousands of people who love music — Hindustani, Carnatic, Devotional, Film music — and want to learn it, but don't know where to go. Many fans and well wishers internationally had been asking me to help them learn music.
 
So I thought, why not make world class music education available to people online, in the comfort of their own personal spaces? That's why I set up the academy (www.shankarmahadevanacademy.com).  I am personally and very closely involved with the process of creating material and monitoring the entire training chain.
 
What does your online music academy offer students?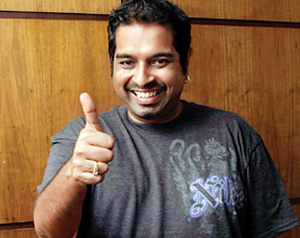 My online music academy is a small but sincere effort to help aspiring people learn music and revel in their talent. There is a structured classical music curriculum, we have self-study Hindi Movie and Devotional songs sections, then there's our OM  book or online music book which is central to learning. There's also an integrated practice tool, Riyaaz, plus, of course, collaborative online virtual classes.
 
Today, the best thing one can gift a talented family member, relative or friend is an opportunity to learn music. And since my music academy is online, it has the potential to really grow and take our music across borders and boundaries.
 
One last question: Speaking on online, how active are you on the online medium. On social sites like Facebook?
You know what? Even though my friends kept telling me to get on to Facebook much before I actually did, I have no regrets. In spite of being a very late entrant, I do have around 5 lakh fans, and I love them all – they are a precious group of friends, and I enjoy being in touch with them.
My Facebook page is at www.facebook.com/shankarlive
We know here at BollySpice we can't wait to hear what Mr Mahadevan sings for us next and especially about that album so stay tuned for more!