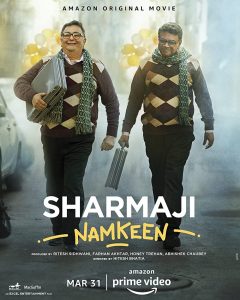 Sharmaji Namkeen(Amazon Prime Video)
Starring Rishi Kapoor, Paresh Rawail, Juhi Chawla
Directed by Hitesh Bhatia
Whether it is the affable culinary artiste Sharmaji or Rishi Kapoor , the much missed affable actor who plays Sharmaji, life dealt them with such unexpected blows. Rishi left us and this film incomplete . Sharmaji too is at a loose end when suddenly after forced retirement he finds himself looking at yawning stretches of emptiness, punctuated by bouts of exasperated protest against this custom of retirement.
Sharmaji Namkeen is not the first film about retirement blues: Ravi Chopra's Baghban remains a quasi-classic of the genre. Baghban is referred to at the start of Sharmaji Namkeen by Satish Kaushik who is routinely dependable as Sharmaji's best buddy.
This is no Amitabh Bachchan. But Hey, Rishi Kapoor bhi kissise kam nahin! The late much-missed actor brings a crackling joie de vivre to the role of an aging man who is not above embarrassing himself and his two sons(Suhail Nayyar and Taaruk Raina). The sons(well played) are constantly on tenterhooks on what Papa-dearest will do next to amuse himself.
Little do they know what Sharmaji has in store. The delightful droll comedy moves in uncertain ways ways when Sharmaji secretly begins to cook for a bunch of gossipy ladies at their kitty parties. The kitty collection is splendidly spearheaded by super-talented actresses like Sheeba Chaddha and Ayesha Raza who are screechy fun-seeking housewives devouring Sharmaji's dahi-bhalle and gol-gappas with a slurping relish.
Juhi Chawla who is also part of the kitty-kitty-gang-gang is strangely out of rhythm. She looks inconsistently fetching and tired, depending on her mood which perhaps depends on which 'Sharmaji' she is shooting with.
This brings us to Paresh Rawal who fills the blanks that Rishi left behind, with a huge amount of empathetic earnestness. There is no attempt to mimic Rishi. The two actors share the same character with seamless accord. At times the effect is surreal: Paresh climbs a water tank to jump: Rishi Kapoor wakes up from the nightmare…Rishi watching Paresh on television….It's the supreme occasion for suspension of disbelief , and well, we are up to it. Because the narrative's heart is in the right place. And well, because we love Rishi Kapoor even when he not fully there with us.