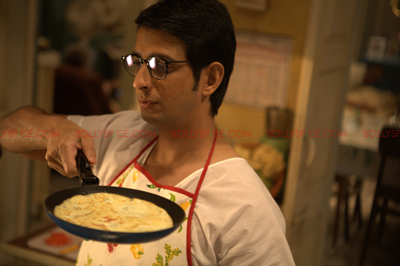 Often actors are needed to learn an art or the likes to complement their character onscreen and the actor who ever has worked under Vinod Chopra Films banner, cannot resist his dedication to wards excellence, same has rubbed off on Sharman Joshi. To be a perfectionist and play their character with 100% conviction, stars take special lessons to perfect the art. Similarly, Sharman Joshi, who portrays the role of single parent to his to his 10-year old child in his upcoming film Ferrari Ki Sawaari, had to learn to make and toss egg-omelette.
According to the grapevine, for a scene in the film, he had to execute each domestic work for his home which also included cooking breakfast for the family. The shoot demanded him to make an egg-omelette and flip it over multiple times, a la Cordon Bleu chef while cooking it. The pampered person what Sharman has been in his childhood, he didn't even know how to break an egg for starters! To give his hundred percent to the shoot, he made it point to practice cooking egg-omelette at least twice a day. He practiced for a good five days and learnt the art of breaking eggs evenly, cooking them and also flipping the omelette.
He was amazingly perfect and completed the shoot in one take. This became a fond memory for the cast and crew of Ferrari Ki Sawaari, but Sharman had to still give the retakes – not for the film, but to cook for the crew, who deliciously enjoyed his treat.
Looks yummy to us! Ferrari Ki Saawari,is a heartwarming tale of unconditional love between father and son, the pursuit of an Indian legend's Ferrari makes a young boy's dreams of playing cricket at Lords a reality.The film hits theaters on June 15th!