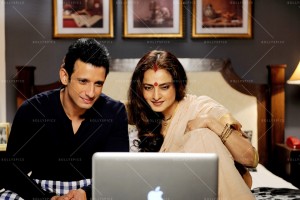 Actor Sharman Joshi who  has been whipped up in a viral frenzy thanks to the debut of his extremely touching and emotional video on mothers has revealed that he only put up the video post showing it for approval to none other than Rekha, his Super Nani co-star!
Buzz is that the talented actor first showed the video to Rekha very recently and we hear that the superstar icon got highly emotional when she saw the Mother special video!! An inside source who snapped the special pic when Sharman showed Rekha the video on his laptop also said that not only did Rekha get quite choked up with tears but blessed Sharman for making such a video too!!
Directed by Indra Kumar and produced by Indra Kumar and Ashok Thakeria, Super Nani is an ode to woman power and releases on Diwali. It also stars Shweta Kumar and Randhir Kapoor.
Mother's Day might have come and gone, but for actor Sharman Joshi, every day is a Mother's Day, which he recently proved by making a short  thought evoking film as a tribute to his mother.
The short film, which also stars Sharman Joshi, revolves around a touching incident wherein Sharman sees an office colleague scolding his mother for calling him up in the middle of work. Following this, Sharman starts telling his colleagues about how some people work throughout the year and even during festivals without a single holiday and without any salary. When his colleagues scoff at this and demand to know the identity of such people, Sharman discloses that he was talking about mothers, who strive continuously for the sake of their families. As realization sinks in, the colleague, who had spoken rudely to his mother, decides to call her back.