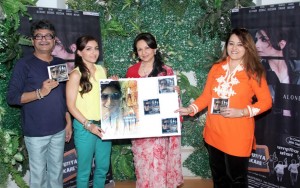 Sharmila Tagore Pataudi along with Soha Ali Khan released the music of Sunill Khosla & Vibha Dutta Khosla produced film Chaarfutiya Chhokare in Mumbai. On being asked about her favorite song from the album, Sharmila ji said, "I have heard all the songs & all of them are lovely but my favorite is Vidya Ki Parasmani, an adaptation of Rabindra Sangeet. In Bengali it is Aguner Paroshmoni. I remember my mother singing it & its a very spiritual & inspiring song . When we said that we are thinking of taking this song to schools and kids. Usually in Calcutta people sing it even today and we used to sing in school, as well. The word "Parasmani" means that what ever it touches gets purified.  So, yes a very inspiring song."
"In the end she wished us all the best & added that in the end we can try our best but it all depends on the audience", say the producers.
Music is given by Abhijit-Sameer. Music label is T- Series. Film is releasing all over on 26th September 2014.
The film stars Soha Ali Khan , Seema Biswas , Zakir Hussain , Mukesh Tiwari & Child actors Harsh Mayar, Shankar Mandal & Yash. The songs are sung by Bihar Kokila – Sharda Sinha , Folk Singer Malini Awasthi , Sudeep Banerjee & Vibha Dutta Khosla. Directed by debutant Manish Harishankar, it is presented by Wave Cinemas & Ponty Chadha in association with Raju Chadha.