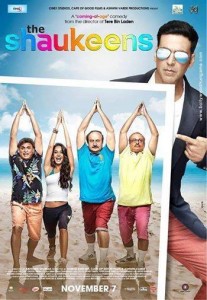 A remake of Basu Chatterjee's 1982 classic comedy film Shaukeen, The Shaukeens, directed by Abhishek Sharma is set to hit theaters on November 7th. The feel-good adventure film follows three middle-aged men played by Annu Kapoor, Piyush Mishra and Anupam Kher, who venture on a trip to Bangkok, where they meet the sizzling hot Lisa Haydon. The film also features Akshay Kumar in a very interesting special appearance.
The music has an eclectic mix of composers that includes Yo Yo Honey Singh, Hard Kaur, Arko and Vikram Nagi and I was not sure what to expect from the soundtrack to The Shaukeens. So did it hit all the right notes or fall a little flat? Read on!
First up we have Alcoholic. Though it has a very cool beat that makes you want to move you just can't get past the lyrics and the topic. We know that Akshay is playing an alcoholic version of himself in the film but this song just is wrong. A great beat by Yo Yo Honey Singh but in very bad form. Maybe in the movie it will play better but I really can't see it happening.
Meherbani composed by Arko begins with a lovely piano line that just made me smile. Jubin Nautiyal's rough voice comes in and it gets even better. He sings with such emotion in every note and you really feel it. A light touch to the music that is really beautiful really shows off his pitch perfect vocals. Composers take note! I hope we get to hear much more from him in the future! 'Meherbani' is a song to just stop and listen and get lost in. This one is going on my Favorite Bollyballads playlists and I say add it to yours too!
With Manali Trance, Yo Yo Honey Singh again brings in unique sounds, vibes and instruments to make a mood-altering track. Neha Kakkar is great on the song and really imbibes the beat and the feel of the music. Lil Golu brings it and in his sections, the music deepens down and it is wicked. I just wished the whole song had a bit more of a grounding with bass beats or percussion – it needed more depth. The tinny sound got old after a while. The video does make you not notice the tinny notes as much and you get into the trance feel and swaying moves some so give it a try.
Aashiq Mizaaj composed by Hard Kaur had an overall wicked groove. It begins off very cool, though I am sure I have heard that first beat set before but where it was sampled from I am not sure. Then there is the annoying baby cartoony voice vocal but that goes away quickly thank goodness. The song transposes to a much more Indian beat with an underlayment of dance beats. Aman Trikha is great on the track and he adds a fabulous energy and snap. In the smoother section ;Aashiq Mizaaj' refrain his vocal lays perfectly on the music. The rap section is good and changes up the song really well. Overall this song hits some good notes and is worth a play.
Ishq Kutta Hai is a Vikram Nagi composed song that begins as a full on rock jam with wailing guitars and strong percussion that then turns into full on Indian with Punjabi flavor and some dance beats mixed in. Mika Singh kills it at the mike singing with spice, rock growl and great inflection. The music does get a bit mad and frantic in parts which makes you wince and want to turn it down which is never ever a good thing. However, I think in place in a movie it would not be so overwhelming and might work. Give it a listen for Mika Singh in a totally cool avatar and the rock beats.
Lonely composed by Vikram Nagi could have been so much more. It has a lovely melody line and Anu Malik at the mike but it goes terribly wrong. I am not sure what the attraction is for that kids cartoony effect vocal but I really don't like it especially when it is mixed with the pretty music line and it being played opposite the deeper vocals of Anu Malik. He sings a mix of English and Hindi and it is in a rap cadence in parts, which does not work but then when he gets to sing it gets SO much better. It is just a shame they ruined it with that cartoony voice. Maybe a cartoon character shows up in the film and then that would make sense but to listen to it makes you turn it down to zero instead of 11.
Overall the OST for The Shaukeens hits some very good notes and cool grooves with highlights brought in by the excellent singers, however, the music in many parts also fails or out right annoys. I would go with a 2 but am adding an extra half star cause I loved 'Meherbani' so much.