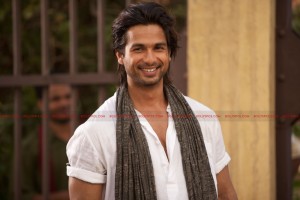 Shahid Kapoor says it is the character of Javed in Kunal Kohli's Teri Meri Kahaani which he found the most interesting to portray.
"I have never played a character like Javed earlier. He is a little bit of Casanova. Whenever he sees a girl he starts flirting with her. It's his inherent nature. He is very scruffy and has an uncombed look. He keeps on doing shayari the whole day to impress girls. Shayaris are his pick up lines and very often he does succeed to getting the girls with his shayari. He is not a sophisticated shayar and that is part of his charm."
The most difficult part says Shahid was wearing the stud in his ear. "I didn't have my ears pierced in real life so I wore a stud which was a clip on and it was so painful. I have started respecting women now. I thought it would be easy but after shoot every evening I would die to take it off as I used to have red ears." he laughs.
He further adds, "Javed is a good for nothing guy. He roams around with his friends and flirts with the every girl he meets. He later meets Aradhna, the character Priyanka Chopra is playing and discovers love for the first time. It's a different and a new feeling for him and he doesn't know what to do. He is confused. Thats Javed in 1910. It was probably the funniest and naughtiest character of 1910 I have ever seen. I am very excited about this character and have received a lot of feedback over it too. I had to memorise the shayaris also."