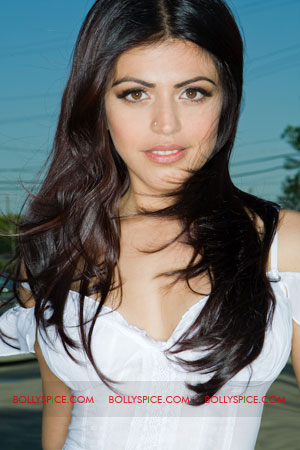 When it opened on July 1st, Delhi Belly took audiences, critics and the box office by storm. We here at BollySpice loved it and in fact, gave the music 4.5 stars and the movie 4 stars! Produced by Aamir Khan and directed by Abhinay Deo, the film stars Imran Khan, Vir Das and Kunal Roy Kapoor as the main characters in the madcap comedy. However, they were supported by two fabulous actresses, Poorna Jagannathan and Shenaz Treasurywala, whose characters got mixed up in the madness that is the story of Delhi Belly. With the success of the film, it has been a mad whirl for the cast and crew and only now has Shenaz had a moment to sit and chat with us about Delhi Belly. In a fun and wonderful interview, the actress talked about making her character funny, what it was like working with the cast, her love for Aamir Khan and pretty much all things Delhi Belly. Plus she even talked One Life to Live and writing Luv Ka the End! Check out her fab answers!
How did the role in Delhi Belly come about?
I was walking down Pali Hill in Bandra and someone from Kiran Rao's office spotted me and asked me to audition for Dhobi Ghat. So I went in and tested for it. Kiran saw my audition and called Aamir right away and asked him to see it. I wasn't right for Dhobi Ghat, but they thought I would be perfect for Sonia in Delhi Belly. That night I got a call from Aamir's office, I went in and auditioned for Delhi Belly the next day and a few weeks later, I booked the role.
What made you say yes to this role?
I fell in love with the script. It's an Aamir Khan project. I love doing comedy. My characters name is Sonia. Prissy Sonia seemed like a fun character to play. She comes from a privileged background. She's well put together, every hair in place and perfectly manicured-all the time. She is lil Ms. Proper. Sonia is the bossy, dominating girlfriend who plans everything. She knows what she wants and goes for it. She's planned what date she's getting married, what date she's having children, how many children she'll have… everything to smallest details.
Did you enjoy playing her?
I am quite the opposite from Sonia. I am not proper and don't know what I want and can rarely even make a decision. I rarely even brush my hair, am unplanned and my life is always a big mess. So, it was fun to play opposite type.
She was written as shallow, prissy and bossy. It was my job to make her funny and likable despite of her character flaws and that was my aim. She didn't have the funny lines; I took it on as a challenge to make her funny even though she was written as annoying. Hope I made you laugh.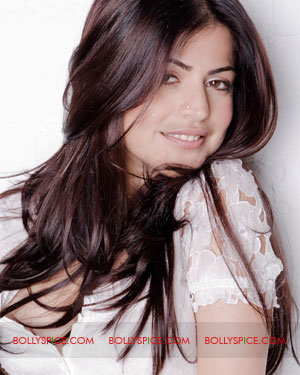 You worked with Imran Khan in this, how was that experience?
He's reserved, very straight-laced and serious. Just like the character. I have fun trying to get him to loosen up (winks).
What about working with the rest of the cast?
Poorna is one of my best friends now. We are really close; in fact we both live in New York and don't go two days without speaking.
I LOVE Kunal. He's my favorite among the boys. He's a sweetheart.
What do you like best about the film?
I love when Nitin comes into the house and sees Arup hanging from the fan and Taashi up against the wall. That's a funny moment, when he says, "Hi Guys." Little things are so memorable. Like the face Manishchand, the landlord makes when his big policeman brother asks him, "ab kya pakoda kha ke kayega?" Or the cute waiter who says, "for reasons of quality sir." with such a sweet earnest face.
What I LOVED most about Delhi Belly was the casting. It was perfect. Every character from the waiter to the jeweler to the landlord to the goons were all cast perfectly, and every one of them did their job well. A bunch of fine actors. An honour to be one of them.
Tell us about being directed by Abhinay Deo.
Abhinay has the ability to bring out the best in actors. I don't think the performances would have been as strong if not for Abhinay. Technically I think he is pretty fantastic too. Look at the way he shot the shoot out scene. He's extremely talented, hope he uses me again.
This is most definitely not your average mainstream Bollywood film. How would you describe it?
It's a cult film and I think it will change the face of Indian cinema. It's our Pulp Fiction. I really pray that there are more films like these that are made with love and care and attention to detail and good humour. I hope for more films where they do not talk down to the audience or insult their intelligence.
How was it to work with Mr. Aamir Khan?
I love him. He was such a pleasure to work with! The thing that I noticed about Aamir is that he is genuinely interested in people, asks everyone questions about their lives, he is curious about folks no matter where they come from – just like every actor, writer, director should be.
He takes everyone's opinion. He cares and doesn't let anything just go without being a hundred percent sure of it, which is why everything he does is golden. Gosh, am I gushing?!  But then, who doesn't love Aamir Khan. Don't you?! I have so much respect for him.
Aamir has been so complimentary to me and raised a toast to me at the success party for being fearless and not caring what other people think. In his words, "You did very well, there was not one false note." He further went on to say, "Kunal and Vir had the funny lines, but Shenaz was funny in spite of her character been written as a nag and bossy."
I absolutely LOVE doing comedy and enjoyed doing those scenes with the paper bag on my head and Aamir commended me for that and said that, "for an actor that is scary as your main tool-your face is taken away and for you to be funny even in that scene is something to drink more champagne to." Maybe that was just his excuse to celebrate some more. (Laughs)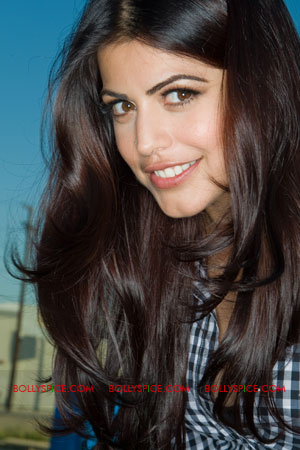 Delhi Belly is a comedy, but with a unique flavor what do you think makes it so funny?
There is no one thing. It's a package. You have to get it all right. It all starts with the script. The script is funny and well written! And then we had a good director, great producer, EXCELLENT CAST. And finally wonderful editing – by Aamir Khan. Ya, he edited it.
What do you think of Hindi cinema today, has it changed since Ishq Vishk?
Oh yes and hopefully it will keep changing!
You also wrote Luv Ka the End. Can you tell us about that project.
I've always been a writer. In fact, I've been writing plays since I was a little girl, I'd direct them, act in them and make my family and friends pay to watch them. (Laughs)
I wrote a screenplay called 'Dreading My Wedding', which I was trying to shop around but nobody really believed VJ Shenaz could do anything, but be cute so nobody read it. Except Ashish Patil (who used to work for MTV and now heads Y-films). The girls in "Dreading My Wedding" were in their late 20's, early 30s and it dealt with more adult issues, which didn't fit Y-films but they loved the writing style, voice, which is strong, very feminine and funny.
Ashish had a basic story idea in mind about three girls taking revenge on a guy and was looking to commission a writer. But they didn't trust us (me and my writing partner, Roye Segal) right away. They put us through a series of tests before they finally gave us the job.
You are also working on the US television show One Life to Live. Tell us about that experience.
I had a stroke of luck again when I came to the U.S in 2010 and my friend's agent sent me to audition for a soap called "One Life To Live" here. I managed to book the role after a series of auditions and have been shooting for the show since then. Life has changed; I now live in New York.
My character Rama Patel is the femme fatale, queen of glam and Ooomph. Rama's the kind of girl with her eye on the prize. If that means a little lying and manipulating, well, so be it. She is the FEMME FATALE. The sexy, exotic one, she's spoilt, selfish and can be a little bitch. There's a blonde girl on the show and she and I are always scheming and fighting and then making up. We are what they call frenemies. I just got into a catfight with her last week; we were kicking, punching, screaming and pulling each other's hair out. Was so fun. In real life we are best friends.
Rama is the funny, crazy one on the show. I love doing comedy; I have discovered that it is my forte. My character Rama Patel has become extremely popular. I get stopped on the street calling out to me as Ms Patel. (Laughs) Whoever thought I'd be a Patel.
We would like to thank Shenaz for taking the time to answer our questions and wish her the best of luck in the future!