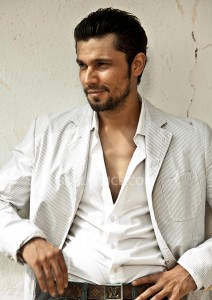 It is not only B-Town actress but also the actors who really care about their make-up, skin and hair on screen. And to maintain their on screen beauty almost every actor makes use of the expensive cosmetic products available in the market. But Randeep Hooda is one of those actors who like to be seen the same on-screen as well off-screen. He carries a rusty tough guy look and has managed to win the hearts of many girls with it.
Randeep recollects his mother once telling him a phrase when he was a kid, 'Sher kabhi muh nahi dhote', to which Randeep says, "I have taken that so seriously that even after I became an actor I follow that phrase. I would rather think of making my performance beautiful instead of my face."
While all the actors have got into the race to become fair and beautiful like actresses, we have a man amongst us.