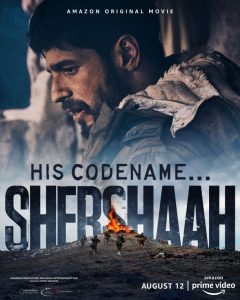 Shershaah (Amazon Prime)
Starring Sidharth Malhotra, Kiara Advani
Directed by Vishnuvardhan
There is something irrefutably comforting about a bio-pic, specially if it chronicles the life of a true hero. And I do want to stress, true hero. In recent years we've had too many Bollywood bio-pics on gangsters and politicians and gangster-politicians. Shershaah honours a man who gave up his life at age 24 for his country.
Sure, we honoured Vikram Batra with a Paramvir Chakra. But ask his family, if the medal comforts them when they remember Vikram every single day. To his credit, Sidharth Malhotra plays Vikram Batra with a sincerity and honesty that shine through in every frame. In every frame he is Rajesh Khanna in Anand and Aradhana. You know he is going to be missed sorely once he's gone.
Malhotra plays Batra as unforgettable. Boyish, helpful, sincere and endearing… There is not a duplicitous bone in this soldier and lover-boy. The film allows the protagonist to fly freely. Director Vishnuvardhan's storytelling is remarkably liberated of gimmicks. If you are looking for unexpected twists and turns in a soldier's saga then I suggest you watch The Deer Hunter or maybe Abbas-Mastan's Soldier? Kitsch is not in demand in Shershaah. A Sreekar Prasad's editing and Kamaljeet Negi's cinematography are unobtrusive. They know who the true hero is this time.
Shershaah plays it straight. It has no room for or patience with humbug except for a few love songs. And they, the songs, fit in effectively without seeming like impositions because, well, Vikram strikes me as the kind of guy who would burst into a throaty Punjabi number to woo his ladylove.
Kiara Advani as the love of Vikram's life (and afterlife) looks so much like a woman in love, I wished there was more time for their romance on screen. Alas, time runs out for Vikram Batra with shocking suddenness. We know it is coming. But to see that whole ritual of the coffin wrapped up in the Indian flag is heartbreaking.
I was sobbing at the end of the film not because it is a great piece of art. But because it pulls no punches and resorts to no artifice. Vikram's story is presented dutifully, and rather beautifully in chronologically order. We see Vikram as a rebellious child bonding with his twin brother.
Oddly we never see Vikram and his twin brother together in their adulthood. Knowing how close the brothers were, this is terrible lacuna in the bio-pic. I felt the absence of the brotherly bonding.
There is a lot more of Vikram's gregarious kinship with his best friend(Sahil Vaid) and his fellow-soldiers and seniors in the army, all well played. The army life is portrayed with unostentatious authenticity. Little gestures and throwaway lines show how much Vikram Batra was loved by all his friends and colleagues.
Shershaah replays the events leading up to Vikram's death during the 1999 Kargil war with a brusque efficiency. It doesn't take the war genre forward. That isn't what this project set out to do. It aspired to bring alive a true hero's saga, and it does that successfully. Full marks to Amazon Prime and Karan Johar for giving future generations a glimpse into a life that was short but oh so significant. Anand Saigal would have approved.