Shiamak aka the Guru of dance is getting the biggest stars of Bollywood ready for the IIFA extravaganza in the USA, when it hits Tampa April 23rd to the 26th! And what is even cooler is that he held a special competition to invite the dancers of the US to perform with their favortie Bollywood stars. With the SHIAMAK IIFA Bollywood Dance Competition, Shiamak was on the lookout for dance enthusiasts in America who want to share the stage with their Bollywood idols.
"It is unbelievable how popular Bollywood is today. People recognise Bollywood with its song and dance. So this was a chance for fans to learn and share the stage with stars that till now they have only seen on the screen!" says Shiamak.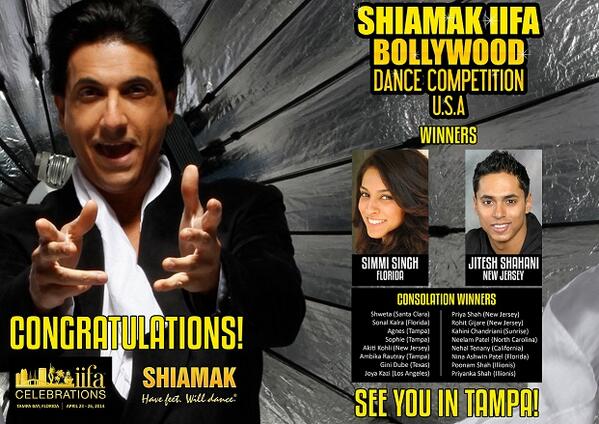 Hundreds of dance enthusiasts from across the States sent their details and videos though this online competition. After screening each videos, Shiamak selected Miss Simmi Singh and Mr Jitesh Shahani as the winners of SHIAMAK IIFA BOLLYWOOD DANCE COMPETITION. They will get a chance to learn from Shiamak and perform with The Shiamak Davar Dance Company. With an all-expense paid trip into Tampa Bay, Florida this is a once in a lifetime opportunity for them to live their Bollywood dream.
Shiamak's dance classes will start this year in USA and the winners will also win a scholarship to his progressive dance classes. Shiamak also selected sixteen consolation winners so they can volunteer backstage and get a first-hand experience at the Tata Motors IIFA Awards.
"I enjoyed watching the videos and was amazed by their knowledge and interest in Bollywood. Entries came from all over America – California, Iowa, New York, Florida, Connecticut, Texas…. everywhere! I'm looking forward to seeing the local talent and giving them a chance to perform with their favourite Bollywood stars!" says Shiamak.
CONGRATULATIONS!!! to all the winners!!
Pack your bags and get ready for the biggest Bollywood experience with SHIAMAK at the Tata Motors IIFA Awards in Tampa Bay!!