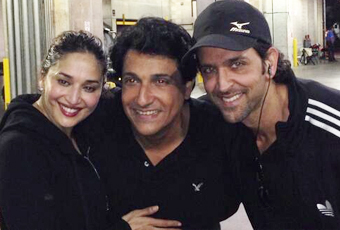 The Guru of dance aka Shiamak blew IIFA audiences away with his amazing dance pieces at the IIFA weekend this past April in Tampa. We were there and experienced his magic and all we can say is wow! Now the world will get to see his spectacular choreography and of course the stars because StarPlus is airing the awards show on Sunday June 15th.
A few weeks before the IIFA weekend we got some scoop on what to expect, and right after the weekend had wrapped we chatted with Shiamak about his fab IIFA 2014! Now as a special bonus and to celebrate the television premiere we have even more!
Check out what Shiamak told us about IIFA, the choreography, working with Madhuri, Hrithik, Deepika, Kareena, Ranveer, Sonakshi, Priyanka and so much more!
How exciting is it now that you have thrilled audiences in Tampa that you now are going to have your work shown to the world with the IIFA shows being shown on television?
We were thrilled to be a part of IIFA awards this year in America which is the hub of culture and the performing arts. The response was overwhelming. It was great to see how well Bollywood was received in the USA. The biggest stars from Bollywood performed and the fans got to witness one of the finest shows. This is just the beginning of a culture connect and I'm glad this start has been made!
Like all other television telecast of award shows, the audiences who could not travel enjoy it at home, IIFA is such a huge brand as it has been held all over the world and the telecast always is a hit globally.
Now that you are out of the madness of the weekend, what are your thoughts on the whole IIFA experience in Tampa?
IIFA is a show that my dance company and I look forward to every year. The entire process of rehearsals, planning and the final show is such a ride, but completely worth it! All the stars worked so hard and it was great to see that the audience received it so well. It's such a pleasure to work with Wizcraft, they manage shows so well. Now I'm looking forward to everyone watching it on TV the world over.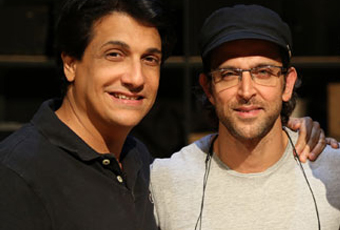 Can you take us through some of what went into the numbers for each of the stars and what it was like working with them?
Madhuri Dixit: From Dil Toh Pagal Hai to now at IIFA, it is always a treat to choreograph Madhuri. She is such a good performer, so graceful and holds the stage so well. Florida is also a place where Madhuri has lived, so the audience were on their feet the moment she entered the stage!
Hrithik Roshan: A complete perfectionist! He had the toughest choreography but he made it seem effortless. His energy, precision and passion is priceless! He is one livewire!
Deepika Padukone: From the current stars, Deepika is easily my favourite. She is such a professional, always knows her work and looks stunning on stage. Her act has style, performance and beautiful visuals. Really looking forward to see how it looks on screen!
Sidharth Malhotra: This was Sidharth's first performance on the IIFA stage and he worked very hard. So talented and fit, this is just the beginning of his journey on stage and just like he has made a mark in Bollywood, his persona on stage will always enthrall the audiences .
Ranveer Singh: Ranveer is such a natural. He is completely uninhibited. The biggest star currently, he had such powerful songs and he stepped up his performance to make the dance look even stronger!
Sonakshi Sinha: Sonakshi has been my student and she brings everything she has learnt to rehearsal every time- discipline and passion. She is such a nice, warm person, always smiling, I loved working with her.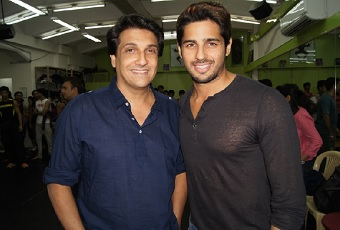 Kareena Kapoor: Kareena can dance with just her face and win your heart, she is an unbelievable performer. The audience loved her performance that paid a tribute to songs from the yesteryears. She is Bollywood in every sense of the word!
Priyanka Chopra, her amazing number and also that air wirework?
Priyanka understands her ability and what the audience likes well. With so much international visibility, she was already popular amongst the audience. She too is very hard working and committed.
Then Priyanka dancing with John Travolta. When I met John, I was like a child, extremely excited! I took his popular moves and gave it a Bollywood twist. He was so sweet and it was an absolute pleasure choreographing him.
Do you have a favorite number of the night?
That's hard to pick! I enjoyed choreographing all, I now want to see which one the viewers like more!
What is the hardest thing about choreographing such a major event?
The concept and thought process of The IIFA Awards is extremely unique and the conceptualization of choreography goes hand in hand with that. We prepare a show for fans that long to watch Bollywood on international shores and introduce it to a completely new audience at the same time. So in effect, I use this medium to educate them about Bollywood, entertain with the colors and celebration of Indian Cinema and empower them with the spirit of the performing arts.
There is a lot of coordination required to make a show like this happen. Finding time for stars to rehearse, to adapt the choreography according to their strength and making sure the performance looks larger than life! The whole process of visualizing and executing is long but completely worth it. It's a total team effort, between the stars, Wizcraft and us to ensure the audience experiences something they have never seen before!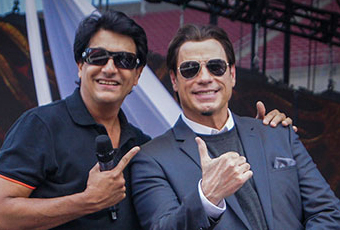 The best thing?
I love the stage, so getting such a great platform to do something I love in front of a new international audience every year with the biggest Bollywood stars and the creative freedom that Wizcraft gives me, can it get any better?!
What are your feelings when you see all your handwork finally come alive on stage?
The response and energy that I got from the live audience was the greatest reward. It is like a painting in my mind that comes alive on stage. It is a feeling of satisfaction and I feel grateful for all those who work so hard to make it happen.
What is your favourite thing about being a choreographer?
Making music visible through dance! Each song says something to me, with choreography I get a chance to make it come alive. It is a channel for me to express myself in the purest form. Each of us is blessed with a talent, a gift that helps heal people. For me I do this through the performing arts. Connecting with people through dance, making them a part of the entire experience.
What can audiences look forward to seeing when they get to experience the IIFA magic?
The answer is in your question – MAGIC! With such talented stars, on such a big stage, it will be a larger than life experience. Bollywood is at its best at IIFA this year, the colors, the celebration; it will all come together on one stage!
Your favorite moment of the weekends' shows?
Choreographing John Travolta! It was a dream come true!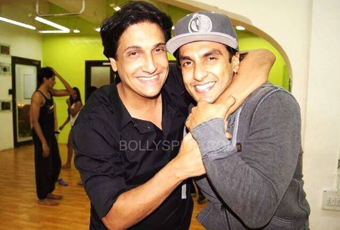 What goes into the songs you choose for the shows?
It's mutually decided with the stars, Wizcraft and me taking into consideration the star performer's biggest hits, hits from the previous year, theme of the performance and the overall concept of the show.
Many times a song will be popular just hearing it but then when you see the video or the choreography or the scene that makes it even better, especially in Bollywood. Why do you think that is?
That is the choreographer's ability to interpret the song well. On the flip side, I have heard many songs that are great but the videos are mediocre. Bollywood is grand, so what makes the video a hit is more than just choreography, it is the entire package of costumes sets, location and editing the video well. Today, it is very easy to make a video look nice. With so much technology, it's more about editing than choreographing. This is why I love the stage. That is the true showcase of choreography!
The reaction from the audiences was fabulous, how does that feel?
I'm grateful to have a platform to showcase what I know best. The fact that nearly thirty thousand people went home happy and smiling, I'm a happy person! It was great to meet the global media and have ABC and BBC speak so highly and give so much coverage. To have the reach at its maximum the support from BollySpice and many others have been tremendous.
What do you feel the IIFA telecast will do for Bollywood and especially Bollywood dance around the world?
IIFA reaches out to Bollywood fans across the world every year and add more to the list each time it takes the show to a new destination. Bollywood is a global phenomenon. When people see a show of this magnitude, they will realize the progress Bollywood has made over the last hundred years. The fact that international stars like Kevin Spacey and John Travolta are associating them with this show, it only goes to show the recognition Bollywood has globally, with each passing year Wizcraft just ensures that they are raising the level and outdo themselves .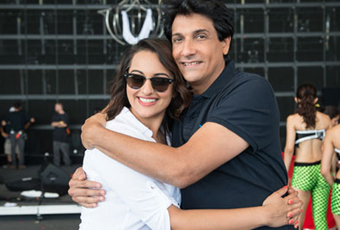 You are soon opening a school in the US, can you tell us about that?
I've got a lot of mails from USA with requests to start my dance school from a while now. We did a dance competition to give locals a chance to dance and experience The IIFA Awards and they said they hadn't seen Bollywood dancing like this ever before! So this year I'm starting my dance school in New York with workshops across the country. After India, Canada, Australia, UAE and UK, it's time to take my dance movement for USA. With my classes here, Bollywood dance enthusiasts will get to learn it firsthand! Really looking forward to this!
How do you think perception of Bollywood has changed?
People know it isn't just about running around trees anymore. The fact that we've had Oscar nominated films and have such a strong presence at Cannes, people are taking notice. The fact that IIFA is so warmly welcomed globally, goes to proof that Bollywood has come of age. People understand the sensibility of Indian Cinema. There is the over the top commercial cinema and there is the non-commercial parallel cinema that gets you thinking. Bollywood offers something for everyone but most importantly it gives people hope. It makes Reel feel Real!
What are you working on next?
My production Selcouth has finished almost seventeen shows in Mumbai. This month I'm choreographing Star Parivaar Awards so that will keep my busy through June. I have been traveling all over India to attend the student shows at my dance school – Summer Funk shows. Choreographing a film also but can't comment on it yet, but that's something I'm looking forward to.