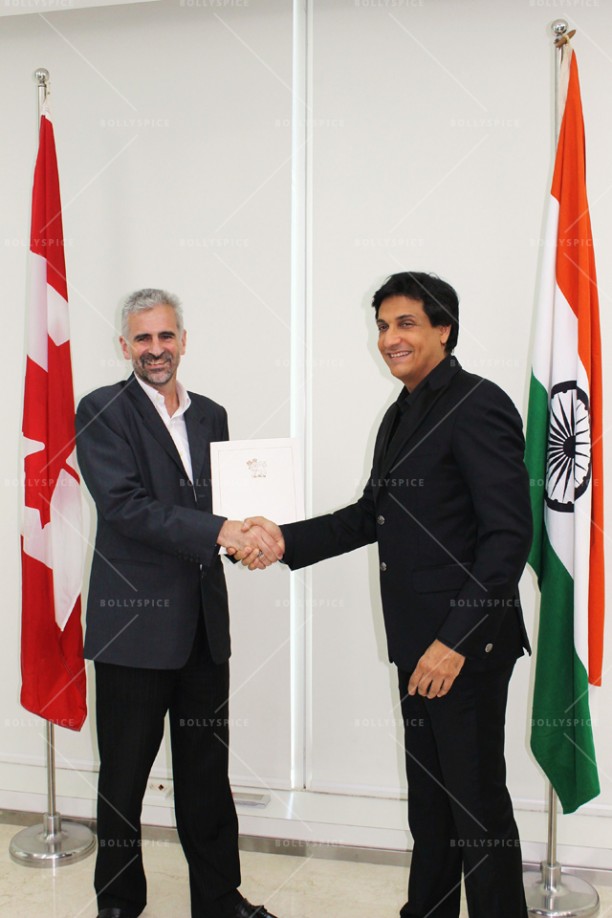 On April 4, 2014, Bollywood's star choreographer Shiamak Davar was presented with the Governor General's Medallion and Citation for his role in connecting India and Canada by forging new opportunities for cultural dialogues through his passion for the performing arts. Shiamak has continued to build friendship and understanding between the two culturally diverse nations and this particular award serves to honor and celebrate his commitment.
"The purpose of the medallions is to recognize the contributions made by a small number of very special individuals to the India – Canada relationship in a number of different fields," said Consul General Richard Bale.
"Shiamak is a businessperson, he has opened dance schools in Canada but his contribution is much more than that. It is an extremely impressive cultural contribution he has made, he has built a bridge between Canada and India through dance Mr. Shiamak Davar has long been an unofficial ambassador for Canada in India. He's a great friend of Canada who has brought Canadians and Indians closer together through the power of music and dance."
"I am so honoured and grateful to have received the Governor General's Medallion and Citation," said Shiamak Davar. "I consider Canada my second home, which makes this especially meaningful for me. Dance has always been an important part of my life, and I am so pleased to be able to use my passion for the performing arts to create a common ground for our nations."
Shiamak opened his first international dance studio in Canada before expanding throughout North America, Australia and Europe. For over a decade, Shiamak has aimed to make dance accessible for hundreds of enthusiasts across Canada, giving them an opportunity to not only learn his unique style of contemporary Bollywood dance, but also turn their passion into a profession in an international setting.
Widely referred to as the guru of contemporary dance, Shiamak Davar continues to create a connection between nations through the performing arts. He has been involved in a number of international projects, including co-directing and choreographing the inaugural Times of India Film Awards, hosted in Vancouver. From the shooting for the Bollywood blockbuster Taal at the now Rogers Center in Toronto, The Unforgettable World Tour with the illustrious Bachchan family, choreographing the 2011 IIFA Awards in Toronto, to judging the reality based Bollywood dance show Bollywood Star Canada, Shiamak continues to exemplify an unwavering dedication to bridging the east and the west.