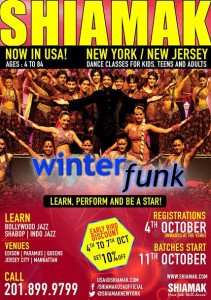 With the motto "Have Feet. Will Dance."™, The Shiamak Dance Movement is the largest in the world. Reaching out to over a million dance enthusiasts across India, Canada, Australia, United Kingdom and United Arab Emirates, the Guru of Dance, Shiamak Davar, is now launching his dance academy in The United States of America.
Shiamak said,"So excited my classes are starting in USA! Dance has sure made the world a smaller place!"
Starting this fall, SHIAMAK Dance classes will be conducted at multiple studios across New York and New Jersey. Classes will be taught by senior faculty members, Deeba Patel, Bhuvan Sharma & Devashree Pande. Instructors have been highly trained by Shiamak for multiple years and have performed at national and international live events, films, sports events and award shows. Patel, Sharma and Pande have also taught and performed with Bollywood's A-list celebrities.
Shiamak has introduced the world to new dance forms, which are amalgamations of Indian and Western dance, fused with his own unique and personal style. Spreading the joy of dance to students as young as four all the way to eighty four, his faculty teaches his patent dance styles; including Shiamak's Indo Jazz™, Shiamak's Bollywood Jazz ™ and Shabop (Hip Hop & Street Funk) amongst many others.
While Shiamak's association with the USA goes back several decades, the launch of his US academy, will embark a new journey to educate entertain and empower people through dance and the performing arts. From singing with music legends including Sting, Will Smith and Bryan Adams to partnering with Former President Bill Clinton and Hollywood actor Richard Gere for social causes, Shiamak has built strong cultural relations between the two countries. A close friend and Shiamak's Guru, Debbie Allen has taught workshops at Shiamak's Dance Studio in Mumbai. Similarly, dancers from Shiamak's academy have trained at The Debbie Allen Dance Academy (DADA) in LA, and teachers from DADA have taught at Shiamak's academy in Mumbai.
The Shiamak Davar Dance Company has also performed several times in USA for shows and events including The UnforgettableWorld Tour with Amitabh Bachchan and Madhuri Dixit, the International Indian Film Awards (IIFA) recently held in Tampa, Florida,The Bollywood Awards, Sangeet Awards and multiple other corporate events. His credits also include choreographing for the Hollywood Blockbuster, Mission Impossible: Ghost Protocol starring Tom Cruise.
Shiamak was honored with a doctorate by the Middlesex University, London for his contribution to the field of dance education, entertainment and performing arts. Spreading the joy of dance and taking dance education to international shores, Shiamak Davar is set to launch his dance school now in the USA. Registration will begin October 4th, and classes are set to begin on Oct 11th.
Don't miss out the Shiamak's Dance Team performing live for Maharashtra Tourism presents Diwali at Times Square on September 20th and Master Marzi from Dance India Dance.
For more information please contact 201.899.9799 or email: usa@shiamak.com.
Registrations begin- October 4, 2014