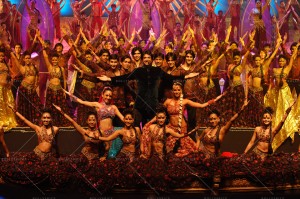 A dance movement that had reached out to over a million dance enthusiasts across India, Canada, Australia,  the United Arab Emirates ,  in the United Kingdom from three years, and recently in  the United States of America is set to open its doors now in Leicester and Birmingham!
Singer and Performing Artist, Shiamak Davar is known as the "Guru of Contemporary Dance" in India. He is responsible for modernizing India's dance scene especially in the film and theatre industry, and is respected for his very unique and popular Shiamak Style (Indo-modern and contemporary dance).
"My mission is to spread the joy of dance. It has changed my life and I believe it has the ability to educate, entertain and empower everyone across the globe," says Shiamak. "The dance academy has received an over whelming response in London and I'm glad we're taking it to Midlands now."
Shiamak has introduced the world to various new dance forms, which are amalgamations of Indian and Western dance, fused with his own unique and personal style. Spreading the joy of dance to students as young as four all the way to eighty four, his faculty teaches his patent dance styles; including Shiamak's Indo Jazz™, Shiamak's Bollywood Jazz ™ and Shabop (Hip Hop & Street Funk) amongst many others. In 2011, Shiamak was honored with a doctorate by Middlesex University, London, for his contribution to the field of dance education, entertainment and the performing arts.
Shiamak's expert faculties are personally trained by him in India before they manage his academy abroad. The teachers work closely with him at shows and in films, dancing with the biggest Bollywood stars, managing events and gaining technical know-how.
"Shiamak's motto – 'Have  Feet. Will Dance! ™ gives a chance to enthusiasts from all walks of life, to dance. The opportunities here are endless. While some come to dance as a hobby, many get a chance to perform at shows, train under the best faculty and even making a career in dance. Once you register for the classes, you will see your life change!" says Shruti Shah, Business Manager (SHIAMAK UK) and Senior Dance Instructor at Shiamak Davar International. "Most importantly, Shiamak believes that dance can heal. Having taught around the world, I have personally experienced this myself. It is the best ways to de-stress, disconnect, connect and let go!"
The academy that has trained the likes of Shahid Kapoor, Varun Dhawan, Aishwarya Rai Bachchan and Sonakshi Sinha and promises to make you feel like a star too!
Classes in the Midlands have commenced on October 5 in Leicester and will start November 1 in Birmingham. For further information – Email – midlands@shiamak.com or  Call  01163190733.