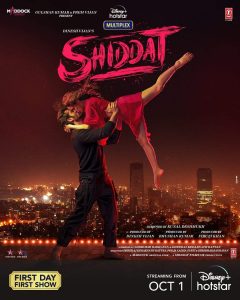 Shiddat (Disney-Hotstar)
Starring Sunny Kaushal, Radhika Madan, Mohit Raina
Directed by Kunal Deshmukh
Shiddat is about true love and the walls and hurdles of cynicism and moral policing that people in love have to face even today where caste community and bank balance determine marital alliances. The heart can go fly a kite.
Jaggi as played by the wonderful Sunny Kaushal is all heart. Sunny, true to his name, is that spot of sunshine in our godforsaken grim, grimy world, that epicenter of optimism, which would like to us believe that true love still exists. So when he falls in love with the spirited swimmer Kartika(a typecast Radhika Madan) while training her to be a better sport(and also sharing a one-night with her) Sunny thinks it's for keeps.
When Kartika takes off to London to get married to the man of her wealthy parents' choice, Sunny follows his dream to the wedding mandap. Almost.
In a parallel sub-plot, an immigration officer Gautam, played with contagious empathy by Mohit Raina struggles to keep his marriage with his rapidly disenchanted wife (Diana Penty in an underwritten role) alive.
Raina's Gautam and Kaushik's Sunny are the heart of the plot. They play against each other with such energetic conviction, it becomes easy to forgive the narrative its quota of lapses: for example, the unnecessary DDLJ reference. It serves no purpose. If the truth be told then Shiddat ventures much further into the dynamics of a love relationship than the largely-overrated, sanitized and syrupy DDLJ.
Shiddat is a terrific idea for a rom-com. Writers Shreedhar Raghavan, Dheeraj Rattan and Pooja Surti have packaged what seems to be the first true Bollywood rom-com in years. The characters sparkle with an ingrained vivacity. Even the supporting characters, like Kartika's best friend (the Aruna Irani slot) will strike you as roles re-defining the equations and regulations of mainstream Hindi cinema.
Shiddat shakes up the status quo, rearranges the tropes of a rom-com and comes up trumps. It is a zingy, loopy sometimes crazy sometimes moving look at that thing called love as seen through different prisms and perspectives. The editing (A Sreekar Prasad) goes a long way in amplifying the plot's mischievous manoeuvrings through a labyrinth of enticing ideas.
There are some incisive comments on illegal migration and stowaways smartly written into the plot. No, love doesn't conquer. But it sure as hell lives up the philosophy of the film's theme song Yamma yamma kya khubsoorat samaa, bass aaj ki raat hai zindagi kal hum kahan tum kahan.
Sing along that song, Shaan se. Ignore the vicious attacks on the film for glorifying a 'stalker'. To not see the difference between stalking and true love is to be blind to the very essence of love.
Shiddat is a watchable moving film with Sunny Kaushal and Mohit Raina steering the saga through its choppy waters (in swimming pools and mid-ocean). Radhika Madan is spunky. She would do better if she were to improve her diction. "I am sorry" sounds like "I am soggy" which acquires an unintentionally ironic lilt considering she says it when has just emerged from the pool.
Soggy, Shiddat, is not.