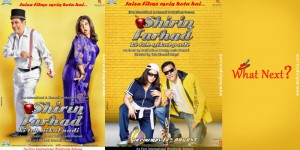 Shirin and Farhad posters have travelled from Hum Aap Ke Hai Kaun to Kuch Kuch Hota Hai, they have been grabbing eyeballs and sending bouts of laughter all along. The duo, Boman Irani and Farah Khan have been a very exciting couple, coming up with the most unique concepts and posters.
The first poster of the movie is a replica of the Salman Khan and Madhuri Dixit starrer Hum Aap Ke Hai Kaun followed by the next poster that was a reflection of Shahrukh Khan and Kajol in Kuch Kuch Hota Hai. The posters are an imitation of popular romantic movies and have the Shirin and Farhad touch. The look of the third poster is still under covers and is to be unveiled very soon. The series of posters has engaged the audiences and also left them curious and awaiting for the next poster.
Shirin Farhad Ki Toh Nikal Padi is a movie directed by Bela Sehgal, it is her directorial debut with Bhansali Productions. Set against a Parsi background Shirin and Farhad are two individuals in their forties who fall in love with each other and wish to get married. The journey to the wedding is a series of fortunate as well as unfortunate events. The promo's look promising, the dialogues are hilarious and the movie as a whole brings a new fresh look to the audiences.
To stay tune with Shirin and Farhad join them –
http://www.facebook.com/MeetShirinFarhad