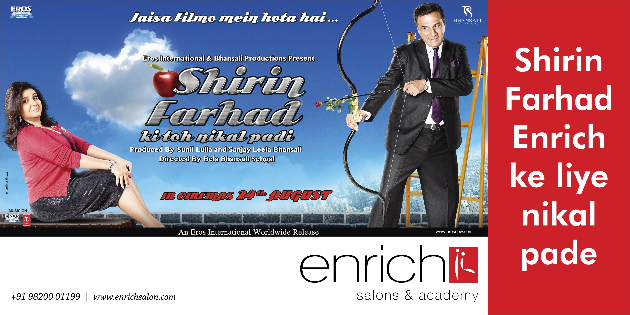 Once again Bottomline Media has come up with a unique movie promotional tie in for the release of Shirin Farhad Ki toh Nikal Pad. Enrich Salons and Academy, the largest chain of unisex salons in India has joined in the promotions for the upcoming movie, which was produced by Bhansali Productions and Eros International, and stars stars the unique and totally cool jodi of Boman Irani and Farah Khan. On August 23rd at the Enrich salon in Malad Infinity Mall this association will be celebrated at a very cool event. Not only will the fans get a chance to meet the impeccable Boman Irani and the multitalented Farah Khan but also can wind exclusive gift vouchers from Enrich salons & Academy.
Commenting on the association, Rohit Dedhia, owner of Enrich Salons and Academy, says "It's a pleasure to be allied with 'Shirin Farhad Ki Toh Nikal Padi' and the presence of Boman Irani and Farah Khan has added their endearing charm to the brand." He further said, "Enrich salons offer an amalgamation of exceptional grooming services coupled with talent, style, hygiene & technology. Whether you're looking for luxury treatments or want to adorn in simple grooming services, an Enrich Salon will offer it all."
Tanaaz Bhatia, Founder and CEO Bottom Line Media who brought about the tie-up, says, "We
are very happy to bring these two brands together…It's a natural association between Enrich
salons and Shirin Farhad Ki toh Nikal Pad. Since the movie is all about real people and real life situations, it will strike a perfect chord with Enrich's clientele…we are sure that this association will be fruitful at both ends."
So be sure to go to the event this Thursday and stay tuned for some exclusive pictures!
In case you don't know, the story of Shirin Farhad Ki toh Nikal Pad is about Farhad (Boman Irani), a 45-year-old Parsi bachelor who owns a bra and panty shop and lives with his Nargis and dotting grandmother Siloo. Farhad's luck strikes when on a particular day Shirin Fugawalla (Farah Khan), a 40 year old bubbly, straightforward, a trust secretary enters his shop and he realizes he has fallen in love with her. The conflict in his love life arises when his mother Nargis realizes that Farhad (Boman Irani) is in love with her sworn enemy (Shirin) and all hell breaks loose.
About Enrich Salons & Academy –
Enrich first appeared in the beauty circuit in 1997 as a small and friendly venture; and was
transformed in to a Private Limited company in 2004. Today Enrich is the largest chain of unisex
salons in Mumbai, Pune, Ahmadabad and Bangalore with 44 outlets spread out through the city.
It is considered to be a melting pot of creative styling concepts and exceptional services at
affordable prices. Collaborations with specialists like L'Oreal, Remy Laure & Christian Valmy
has led Enrich to surpass competition and to rise above the normal.Enrich salons constantly strives to scale up the training process and introduce the latest technologies in the grooming industry.