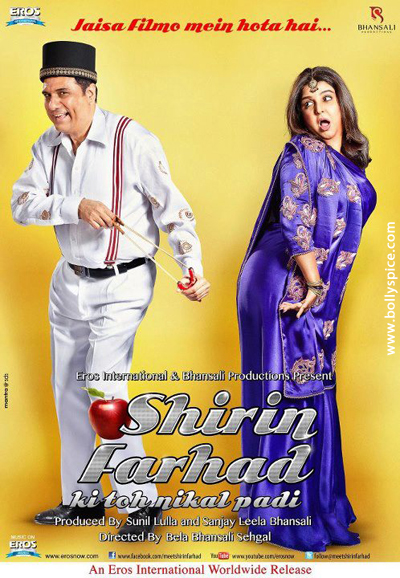 Very seldom does Bollywood attempt a love story of people on the wrong side of forty. Therefore, the promos of Bela Sehgal directed Shirin Farhad Ki Toh Nikal Padi came as a breath of fresh air, promising a funny and heartwarming rom-com of two 40 plus protagonists. Unfortunately, the film could not live up to the promise.
Farhad (Boman Irani) is a 45 year old lingerie salesman who lives with his mother (Daisy Irani) and grandmother (Shammi). His unmarried status is not only the cause of his loneliness but also embarrassment in front of his Parsi family and friends. One fine day, 40 year old Shirin (Farah Khan) walks into his lingerie store and Farhad falls head over heels in love. However the path of true love is never easy, is it?
Shirin Farhad Ki Toh Nikal Padi is a noble attempt but painfully amateur. The film needed a director who could balance the quirky and whimsical quality of this 'bawa' love story with the right doses of romance and humour. What we get instead is a half-baked romance and humour that is not goofy enough. The erratic screenplay aside, barring a few instances the dialogues too are a let-down. The songs are particularly irritating, so bad that one wishes for a fast forward button every time one pops up.
A romantic film needs good chemistry between its leads to be convincing. Farah and Boman do share a good comfort level but that's a different thing from chemistry. Still these two actors are the best thing in the film and their adorableness quotient is what keeps the interest of the audience alive. Boman's earnest and nuanced performance ensures that the audience can't help but care for Farhad. Farah Khan looks lovely and does well for a newcomer but is no match for Boman's histrionics – and the difference shows. The supporting cast is full of talented actors and it helps that most of them are really Parsis. However, they are let down by the director who fails to capture the sweet eccentricities of the Parsi community, as a result of which they come across as loud instead of endearing.
Shirin Farhad Ki Toh Nikal Padi had its heart in the right place but the execution left a lot to be desired. Watch it if you must for Boman's sweet charm.