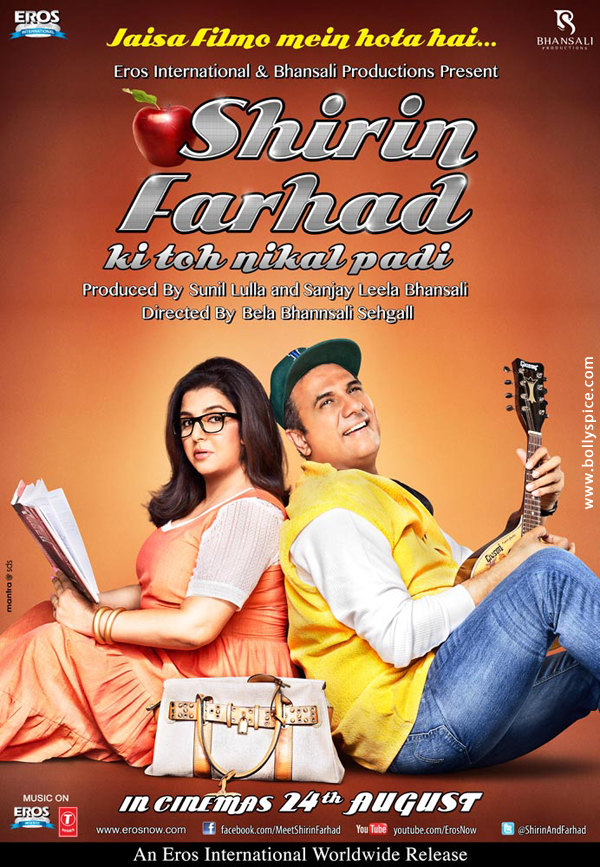 Starring choreographer turned director Farah Khan, who is making her debut as a lead actress, the love story of Shirin Farhad Ki Toh Nikal Padi also stars the great Boman Irani. This is not a classic Hindi romance, with the young college students finding love. In fact, this romantic comedy tells the tale of love later in life and finding your soul mate no matter what your age. Produced by Sanjay Leela Bhansali, the film was directed by Bela Segal and is set to release on August 24th. Jeet Ganguly (Mere Yaar Ki Shaadi Hai, and many Bengali soundtracks) was brought in to bring the songs of the film to life. To be honest I had no idea what to expect when I sat down to listen to this OST, and what I heard did surprise me. Was it a good surprise or bad? Read on!
The album begins with Ishq Mein Tere Bina sung by KK and Shreya Ghoshal. It has a lovely beginning that transforms into something I did not expect at all. The song has a Spanish feel with the strong guitar and percussive clap. The infusion of that beat continues with the Portuguese Fado flavor to Shreya Ghosal's vocals. She sounds wonderful and I love her voice in this avatar. I would love to hear do a full-on Fado song with the longing and yearning. KK joins in and though he is, of course, smoothy good, he is almost too classically Indian filmi in his vocals. I think you will understand what I mean when you hear it. It is just a bit jarring. However, he is fits in and goes deeper on the 'ishq mein tere bina' refrain. Love, love, love the guitar. The music is great both sprightly and spicy. It just needed the rougher vocals throughout like they put forth on 'ishq mein tere bina'. It was two different songs and the two sides did not mix except in parts. However, the infectious beat had me dancing as I was typing, which let me tell you is quite difficult to do.
Khatti Meethi features Shreya Ghoshal again and again the track starts off one way and you think you know what to expect and then it becomes something different. Ghosal in her whispery avatar sounds lovely on the melodious track. The music has a light feeling with a bit of Spanish flavor still in the underlay. Again a great acoustic guitar backs up and add an extra needed note to the music. Ghosal adds a nice touch with the sharpness she gives to the Khatti Meethi lyric. But then… (I hate when I have to type but then)…she breaks into these English lyrics. Granted they are happy and I love what they are saying, 'I want to touch the Sunlight – I want to chase the rainbow'… but why? It actually made me sigh and say out loud, Oh man it was so good up to that point. I also am not a big fan of the backup what I call 'oooh oooh oooh' chorus, but that may be just another listening preference of mine. Overall, it is a lovely song that I would listen to again. A favorite no, but pretty and might be even better within the context of the film…though I cannot imagine how this song is going to fit but we will see!
In Kaafir Andhere you can hear Ganguly's jazz background. It also has this harder rock vibe that transforms into soft rock that transforms into a classic KK ballad. See… ever surprising. I love his vocal on this track; he has that soft flavor to his voice in the beginning and then pulls out the strong voice for the refrain. Too much of the backup chorus again, which takes away from him instead of adding to his voice. That is especially to bad because the chorus is on a very strong stanza. The music has a great composition, but I felt it was struggling with what it was. You can't really classify it. It is a good listen and a very good listen in parts. I love to hear KK sing and if you don't get lost in the many sounds you will like it. Nice track .
Shirin Farhad Ki Toh Nikal Padi changes completely to something different with the title song and once again my eyebrows rose after hearing the first few notes. This song is a full on electronica-techno with a hip-hop fast paced beat. At the mic is Neeraj Sridhar, who is the highlight of the track adding just the right touch of strength and punch. Again there is the chorus and the oooh ooh and yeah yeah yeahs… I think maybe less of them or with a stronger inflection would not have been as bad. Then the English rap…sighhhh. It wasn't bad but did not fit. Again it is a strange mix of vocals with the background music. I actually wanted to turn it off or just skip and listen to only the great Sridhar parts.
Kukuduku is a very quirky track. A smile came with the acoustic guitar and the Kukuduku Kukuduku Kukudukuuuuu. It begins as a light breezy song with a touch or maybe a lot of fun. Mohit Chauhan kills it, of course, with his vocals that have this great underlying roughness to his vocal tone. The song transforms to more of a rock song on the refrains and I liked those sections a lot. I thought the Kukuduku Kukuduku Kukudukuuuuu would get old but it added to the funky feeling. One of my favorites on the OST. Overall, this sounds like friends getting together to jam some music and I enjoyed listening to them play and sing.
One of the most surprising is Ramba Mein Samba with Usha Uthup. Starting out I think here we go with a classic Indian track but then it transforms to a total club song with the electronic beats. The surprise is Usha Uthup and that her voice actually matches to this beat. Her vocals give the song the edge, the strength and the depth that is needed. All I could think of was a classic Ella, or 70s diva singing this song but in a remix almost because of the back beat. Loved her vocals, highlight of the album! It has a Samba and Rumba beat sort of but that spicy percussion is missing. You have to hear it just for Usha Uthup – she is so Brilliant!
I think overall this was a good album that suffered because the songs almost had too much to them. I liked them. I liked a lot of the music separately and the vocals were great separately, but it all got lost in too much and everything seemed to fight against each other instead of mesh. In the end, all I can say was it was a surprise with some good and bad points. If nothing else listen to Usha Uthup's cracking good vocals!
I really had a hard time rating this one since none of the songs can be considered bad, but nor did I love any of them so I will go with a 2.5. That maybe a bit generous but I admire Ganguly's attempt at presenting something new.
You can hear the songs at http://www.erosnow.com/#!/music/album/1004711/shirin-farhad-ki-toh-nikal-padi